Scanner magnet is a big attraction at Spire Nottingham Hospital
The magnet is part of the £1.1 million MRI scanner that has just been installed at the Spire Nottingham Hospital in Tollerton.
The state-of-the-art MAGNETOM Skyra, produced by Siemens, offers the latest in MRI technology as well as having an extra-wide 'bore' making it more accessible for both heavier patients and those who might suffer from claustrophobia in a scanner with a narrower bore.
The hospital's MRI unit was already built and everything put in place in preparation for the arrival of the magnet.
Hospital Director Will Pressley explained: "Everything had to be ready so that the magnet could be placed exactly where it was needed.
"It was a very precise operation but everything went very well. We now have an MRI scanner that we can be proud of and that will be of great service to the healthcare needs of this region.
"It is almost impossible to imagine a new hospital without a new scanner so we are delighted that when our hospital opens to patients we will be able to offer the very best in scanning facilities."
As well as the MRI scanner the hospital, will include:
• 42 inpatient ensuite bedrooms;
• 11 day care pods
• 5 critical care beds (level 3)
• 5 theatres (4 with laminar flow). This includes one minor ops theatre on the ground floor within the outpatients department and one hybrid theatre with integral imaging
• Endoscopy suite
• Outpatients department with 20 consulting rooms (including pre-assessment and treatment rooms)
• Oncology suite
• Radiology department (3T MRI, CT and X-ray)
• Pharmacy and physiotherapy services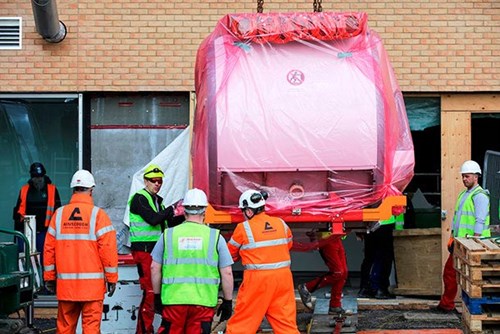 Thank you for your booking request, we will get back to you shortly.