Keeping your kids out of danger this summer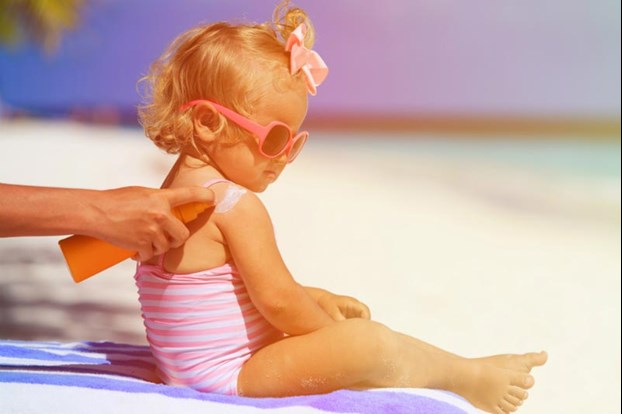 Holidays in the sun can be a testing time for parents as they have to judge how long to let their children play out in the sun.
Dr Anand Patel is a Consultant Dermatologist at Spire Nottingham Hospital. Here he provides ten top tips on how to keep your children safe in the sun.
1. Children are better protected from the sun's harmful rays by wearing long-sleeved clothes (trousers, long skirts, long-sleeved tops) made of closely woven material. Natural fibres such as cotton are best, as the material breaths easily and keeps children cool.
2. Always make sure children wear a hat, preferably with a broad-brim to protect the ears and back of the neck as well.
3. Use sunscreen creams Sun Protection Factor (SPF) of at least 40 – I would actually advice advise Factor 50 or sunblock in most cases protecting against UVA and UVB.
4. Plaster it on and keep topping it up every 2-3 hours! When sunscreens are tested in a controlled laboratory environment, they are applied very generously – to an extent where the skin is white because of the amount of the sunscreen used. It is those white particles that help protect against the UVR.
When your child is playing in the sun some will rub off, some will be washed away by sweat and, of course, much will be lost if they do go in the water. Therefore, it is important to reapply sunscreen regularly to their skin.
5. Sunscreens should be reapplied to all sun exposed areas of skin every two or three hours and more frequently if children are swimming or playing in water. Ideally, even so-called water-resistant sun creams and lotion should be reapplied regularly.
6. Children's skin is thinner and more delicate and therefore it can be penetrated by chemicals more easily. Sunscreens specifically designed for children are the best for your child's skin.
7. Buy your kids long trunks or long-sleeved swimsuits to give them more protection in the water. Even then, it is advisable to limit them to 30-60 minutes at a time in the sun before taking them back in the shade.
8. Protect eyes against the sun - get your children (and yourself!) sunglasses with certified UV protection.
9. The sunlight is strongest between 11am and 3pm so it is best to avoid playing or swimming in the direct sunlight between these times. As they say in Australia "Between eleven and three, hide under a tree!"
10. Consider playing in shaded areas or - do what the locals do - Siesta! A little mid-day nap would also help you feel refreshed throughout your holidays and keep you out of the sun during the hottest hours.
---
Dr Anand Patel has a regular clinic at Spire Nottingham Hospital in which he treats adults and children for a number of dermatological conditions.  His professional interests are the early diagnosis and management of skin cancer and pre-cancer, skin surgery as well as general dermatology such as acne, eczema, psoriasis, rashes and hyperhidrosis with botox treatment.
If you would like more information or would like to book a consultation with Dr Patel please call our Bookings team on 0115 937 7801 or email NTGbookings@spirehealthcare.com.