Dr Shilpa Deb answers abnormal cervical smear test results FAQs
A smear test is a simple technique where superficial cells are taken from the cervix (neck of the womb) using a soft brush and sent for laboratory analysis.
How often should I have a smear test?
The routine cervical screening programme starts at the age of 25 until 60 years of age. A smear test is taken once every 3 years.
This routine screening programme includes testing for certain strains of Human Papilloma Virus (HPV) and, only when the result is positive, the cells are further examined for abnormal changes.
You have had an abnormal result from your cervical smear?
An abnormal smear test result requires further examination and a colposcopy or another smear test.
What is a colposcopy?
A colposcopy involves examination of the cervix through a microscope. This test is performed by a trained gynaecologist or a nurse specialist. Acetic acid is gently applied to the cervix to identify abnormal changes on the cervix. Abnormalities are often referred to as low grade changes or high grade changes. The majority of low grade changes are cured by an individual's own immune system, with only a small proportion requiring further treatment. It is however, important to maintain surveillance and you will be advised by your doctor on further checks. High grade changes often require further treatment.
What about treatment?
Treatment involves removal of abnormal cells under local anaesthetic and is routinely undertaken in a colposcopy clinic. The procedure takes approximately 15-20 minutes and is generally well tolerated by women. Only a small proportion of women either choose or require a general anaesthetic. The majority of women are cured following treatment.
What follow up will I need?
Another cervical smear is advised 6 months after treatment and is tested for HPV. Women with low grade changes are usually followed up in 12 months with either a smear test or both a smear test and colposcopy.
What are the symptoms of cervical cancer?
Excessive discharge, bleeding after sexual intercourse, irregular bleeding, pelvic and vaginal pain, abnormal vaginal bleeding, bad smelling vaginal discharge.
What is HPV?
The Human Papilloma Virus is commonly prevalent in the population and thought to be transmitted sexually. Certain strains of HPV are referred to as high risk virus and are associated with abnormal cervical cells and cancer, but is implicated in cancer in only a small proportion of women.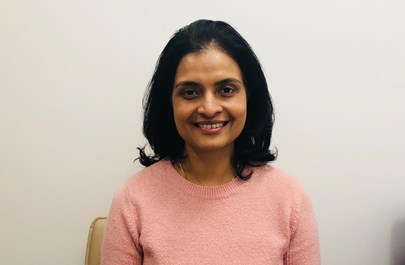 Dr Shilpa Deb, Consultant Gynaecologist sees private patients at Spire Nottingham Hospital. A private consultation costs £200 unless you have private health insurance. To book an appointment call our Private Patient Team on 0115 937 7735.