Dr Iftikhar Fazal answers FAQs on palpitations
What are palpitations?
Palpitations are very common and for many people completely harmless although they can understandably be worrying and a nuisance. The term 'palpitation' is an awareness of your own heartbeat. This may be an increased awareness of the normal heart beating, or more commonly other symptoms such as skipping, fluttering, rapid heart beating, pulsations in the neck or feeling the heart beating in the ear, pounding or thumping in the chest.
What can make palpitations more likely?
The following lifestyle factors may make palpitations more likely to occur:
Anxiety, stress and poor sleep
Excess alcohol or caffeine, eg tea, coffee, fizzy drinks
Nicotine in cigarettes and e-cigarettes/vapourisers
Intense exercise
Medical conditions that can make palpitations more likely to occur include:
High blood pressure
Overactive thyroid
Hormonal changes related to the menstrual cycle and/or menopause
Electrolyte imbalances such as low potassium and magnesium
Lung disease such as asthma, bronchitis, emphysema and sleep apnoea
Heart conditions such as angina, heart attacks and heart failure
Are palpitations a sign of underlying heart disease?
Palpitations are very common and usually harmless in the majority of patients. A heart specialist can help to determine if underlying heart disease or a specific heart rhythm disorder is the cause of your palpitations. Heart conditions such as angina/coronary artery disease, previous heart attacks, heart failure, and inherited heart conditions can all cause palpitations.
What heart rhythm disorders cause palpitations?
Palpitations may be due to a variety of underlying rhythm abnormalities such as:
Ectopics – extra beats arising from the top chamber (atrial) or the bottom chamber (ventricular) of the heart
Atrial fibrillation (AF)
Atrial flutter
Supraventricular tachycardia (SVT)
What tests need to be done?
If you are concerned about palpitations, you should see your GP or a heart specialist. Further tests will depend on the suspected diagnosis but may include:
Routine blood tests, including checking salts in the blood and thyroid function
A tracing of your heart – Electrocardiogram (ECG)
A heart monitor such as a 24-hour ECG or a patient activated event recorder
An ultrasound scan of the heart – Echocardiogram
An exercise treadmill test for palpitations provoked during/after exercise
An implantable loop recorder – a small monitor implanted under the skin on the left side of the chest – useful to diagnose symptoms that don't occur very often
What treatments are available?
Treatment depends on the underlying cause. Obtaining symptom rhythm correlation i.e. an ECG tracing at the same time as the symptoms of palpitations is essential to guide further treatment. Treatment may include:
Avoiding known triggers, eg coffee, alcohol, fizzy drinks
Reducing stress
Stopping smoking/e-cigarettes
Reassurance if no particular abnormality found
Medication such as beta blockers, calcium channel blockers, and more specific antiarrhythmics depending on cause
Catheter ablation of specific arrhythmias such as AF, atrial flutter, SVT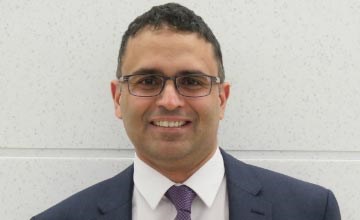 Dr Iftikhar Fazal specialises in cardiology and has a particular interest in heart rhythm disorders, pacemakers/defibrillators, and heart failure.
He can see you promptly at Spire Nottingham Hospital. A private consultation with Dr Fazal costs £200. To book an appointment call 0115 937 7735.