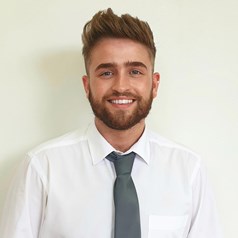 Hello Will! How long have you worked at Spire Murrayfield, Wirral and what is your previous background?
I have worked at Spire Murrayfield for two years. I worked for a year in the outpatient's administration team on the bank, followed by a year out for my university studies abroad. When I returned, I was offered a permanent place in the Radiology and Physiotherapy department at Spire Murrayfield, Wirral, as part of the administration team. I had no previous background to this job apart from my education studies at Calday Grange Grammar School and the University of Chester.
What made you want to be an administrator in private healthcare?
Initially I had no drive to become an administrator in private healthcare. An admin role at Spire Murrayfield was simply a part time job to aid with paying for my studies, however, since working here I have learnt new skills and developed some great friendships.
What makes you proud to work at Spire Murrayfield, Wirral?
I am proud to work for my department within Spire Murrayfield, Wirral. I feel my team consists of individuals that value teamwork above all else. Working well together and improving the outcomes of our department has shown to be effective through the satisfaction of patients, and I am proud to provide the best service I can to the patients.  
What does "Hello my name is…" mean to you?
It gives patients an awareness of the lives of staff outside the hospital, to show them who we are as individuals and not just as an employee.
And finally, what's your hidden talent?
I can down a bag of Maltesers in 10 seconds and I can speak Mandarin!