We can help you make the most of your career
Read Fran's story
How long have you worked for Spire Healthcare?
I started as a senior staff nurse seven years ago. I was promoted, first to a Ward Sister and then to a Ward Manager three years ago.

Where did you work before?
After qualifying, I worked in the Royal Liverpool University Hospital for four years before moving to the Middle East where I worked as a Ward Sister for a further four years. I then relocated back to Manchester and worked for an agency for two years however after a shift at Spire Manchester, I knew this is where I could progress my career and give patients the quality of care they deserve.

What made you choose Spire?
I felt Spire offered the highest quality patient care, had a great approachable team and it is a happy place to work.

Tell me a bit about your role?
As a Ward Manager, I work three clinical days and 2 non-clinical days a week working alongside my team to ensure that I review current processes to ensure my team deliver the highest quality patient care.

What is important to you in your role?
To ensure I have a happy working environment and my team are listened to.

What is your favourite part of your role?
Patient care that I can deliver in a lovely environment to aid patients recovery.

What do you enjoy about working at Spire Manchester Hospital?
The team I work alongside and the patient satisfaction.

Would you recommend Spire as a place to work?
Without a doubt!!!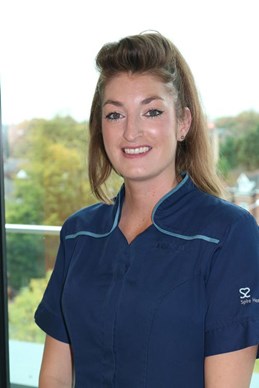 Fran Teale, Ward Manager
Spire Manchester Hospital
---
Discover more and apply for opportunities
Career site: Jobs at Spire Healthcare
Email: Recruitment@spireheathcare.com