The truth about weight loss
In theory weight loss is simple- 'eat less and burn more calories'. In practice it is far more complicated than this as there are numerous factors that make eating less and burning more calories difficult to achieve.
Many weight loss strategies such as liquid plans, very low calorie plans, fad diets, food avoiding or fat burning plans are appealing because they promote rapid weight loss. In reality these strategies are often unrealistic, are difficult to maintain and do not answer the fundamental question of why you gained weight in the first place.
For example, if the main cause of your weight gain is large portion sizes then why choose a plan that is based on liquids? This has not addressed the initial cause of portion control.
It is important to ask yourself the question: why have I gained weight? Causes can include:
portion size
food choices
food choices in between meals (snacking and grazing)
meal frequency
socialising
alcohol
lack of time
education
depression, stress and anxiety
lack of exercise.
There are likely to be various causes of your weight gain and the most successful plans will be the ones that address the cause. Small changes can make a big difference:
Eating 250 calories less each day for 1 week = ½lb a week weight loss
Eating 250 calories less each day for 1 year = 1 stone 7lbs a year weight loss


Eating 500 calories less each day for 1 week = 1lb weight loss/week
Eating 500 calories less each day for 1 year = 3 stone 4lbs weight loss/month


Eating 750 calories less each day for 1 week = 1 ½lb a weight loss/week
Eating 750 calories less each day for 1 year = 5 stone plus weight loss/year
Each week tackle a different cause gradually building up to a healthier lifestyle.


1. Portion size
Even healthy foods can cause weight gain if eaten to excess therefore reducing your portion size can be a useful way to reduce your weight.
Tips
Plate size should have an inner diameter of 7 inches. If your meal size is currently larger than this then your portion size is too large.
Reduce your current plate size to the next size down.
Carbohydrates (such as pasta, rice, potato, noodles, cous cous) should make up ¼ of your plate.
Protein (such as meat, fish, beans, lentils) should make up a ¼ of your plate.
The remaining ½ of your plate should be made up of salad or vegetables.
Reduce your wine glass size from 250ml to 175ml.
Halve your current intake of higher calorie snacks such as: biscuits, crisps, chocolate, sweets and cake.
Ensure you eat regular meals to avoid over eating when you do eat.
Take your time when eating:

each mouthful of food should be smaller than the size of a 20 pence piece
chew each mouthful 20 times
wait 20 seconds and then repeat.

Put leftovers straight into the fridge or freezer so that you are less likely to go back for more.


2. Food choices at meal times
Tips
Plan your meal choices in advance.
Aim for wholegrain, multigrain, seeded or granary breads.
Aim for wholegrain cereals such as Shredded Wheat, Weetabix, Cheerios, porridge or bran based cereals.
Eat fruit and vegetables in their skins.
Remove skin and visible fat from meats.
Aim for tomato based sauces rather than cream based sauces.
Buy lean cuts of meat, chicken or fish.
Aim for 2 portions of fish a week, 1 of which should be oily fish such as, mackerel, trout, sardines, kippers or fresh tuna.
Oven bake, boil, steam or grill rather than fry.
Check all food items in your fridge and store cupboard and aim for the following recommendations.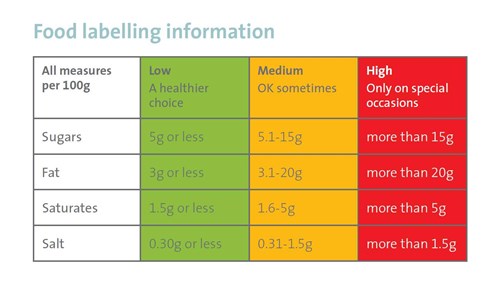 3. Food choices in between meals (snacking and grazing)
Snacking and grazing on high calorie snacks is a major cause of weight gain and therefore any reduction in intake will have a beneficial effect on body weight.
Tips
Swap higher calorie snacks such as crisps, cake, chocolates and biscuits for a lower calorie alternative.
Keep tempting trigger foods out of reach.
Always have some healthy snacks to rely on, such as:

1 small banana
2 plums, satsuma or kiwi
1 apple, pear or orange
1 small handful of grapes or cherries
1 small handful of cherry tomatoes
1 slice of melon or mango
1 handful of plain nuts
1 box of raisins
1 sugar free jelly
1 Low fat and low sugar yoghurt (such as, Muller Light)
2 rice cakes
1 crumpet
1 small handful of dried fruit
1 small pitta bread with low fat hummus
Plain homemade popcorn
½ bagel with low fat cream cheese
Celery and carrot sticks with salsa or low fat hummus
1 plain fruit scone
1 handful of cereal
Cottage cheese with 2 plain crackers.
Keep well hydrated as hunger can often be a symptom of dehydration.
Aim to reduce your current intake of higher calorie snacks by half, for example if you usually have two biscuits start having just one.
Avoid full sugar drinks.
Avoid sugar in tea and coffee.
Aim for skimmed or semi-skimmed milk.
Avoid buying tempting snacks.


4. Meal frequency
Going for long periods without food leaves your body with no fuel to function. When you do eat you tend to eat more? Long periods without food can also make you crave snacks and sugary foods which can further contribute to weight gain.
Tips
Aim for 3 meals a day.
Aim for 2-3 healthy snacks.
Plan and prepare.


5. Socialising
Eating out can make it very difficult to always choose healthy food choices.
Tips
Have a starter for a main meal.
Ask for a child's portion.
Aim for tomato based sauces rather than cream based sauces.
Aim for boiled rather than fried foods.
Avoid extras such as bread, chapatti, condiments or dressings.
Go online and read the menu before you go.
Share a dessert.
Share a takeaway.
Watch your alcohol intake.


6. Alcohol
Alcohol contains excess calories, therefore reducing your intake will have a beneficial effect on body weight.
Tips
Set a weekly limit on your alcohol intake.
Avoid salty foods when drinking alcohol as you are likely to drink more.
Have water at the table if dining out.
Check the strength of your drink.
Sip alcohol slowly so it lasts longer.
Swap full sugar mixers for low calorie tonic water or diet drinks.
Have your alcohol in a smaller glass.
Ensure at least two alcohol free nights a week.
Avoid binge drinking.


7. Lack of time
Time constraints mean that many of us don't have enough time to prepare food. This can lead to the consumption of less healthy food choices, convenience foods and fast food.
Tips
You need to make time for weight loss.
Plan your supermarket shop and meal choices in advance.
Ensure you have go to healthy snacks.
Ensure you have some healthy meals in the freezer for busy days.
Batch cook and freeze meals.


8. Education
There are so many mixed messages with regards to healthy eating that often leave us wondering what is actually healthy.
Tips
Always seek advice from a reputable source, registered dietitian or other healthcare professional.
If it sounds too good to be true then it probably is.
Avoid plans that promote more than 2lbs a week weight loss.
Avoid plans that promise rapid weight loss as they will be unrealistic to maintain.


9. Depression, stress and anxiety
Stress and anxiety can often lead to consumption of less healthy food choices as many of us use food for comfort or to compensate for negative emotions such as anger, depression and pain.
Tips
Develop a non-food related coping strategy such as go for a walk, ring a friend, send an email or browse the internet.
Ensure you have family support with your weight loss.
Speak to your GP if you are feeling depressed or anxious.
CBT therapy can be beneficial for some individuals.


10. Lack of exercise
Exercise burns calories and if you exercise you will lose more weight than if you do not.
Tips
As you lose weight exercise is easier and subsequently you will be able to burn more calories.
Find something that you enjoy.
Being unable to exercise due to poor health or mobility is unfortunate but it means that your food choice is of even more importance.
More information is available here: https://www.bda.uk.com/foodfacts/home
The content of this article is provided for general information only, and should not be treated as a substitute for the professional medical advice of your doctor or other health care professional.