Ten tips to help tennis players remain injury free
It's summer and the tennis season is in full flow with club and league matches occurring up and down the country.
Wimbledon starts today and this always encourages us to fish out our rackets from the garage and start playing again, which is fantastic but how ready are our joints and muscles to cope with this?
The physiotherapy department at Spire Manchester Hospital are here to help with any injuries associated with being active in recreational sport. Whether its tennis elbow, plantar fasciitis or tendoachilles pain, that have been niggling issues for a while. We have been getting great results in treating these conditions using shockwave therapy and returning people back to sport quickly.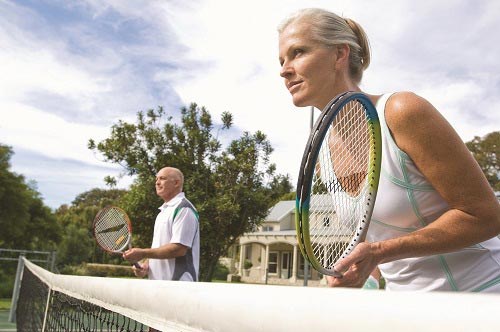 Ten tips to help tennis players remain injury free:
Neck - Make sure you have good range of movement in your neck to avoid straining your neck particularly when serving.
Shoulder joint - The shoulder joint is a common joint to become injured in tennis, particularly when serving. It is important to warm up the arm with practice serves before playing and stretching the shoulder particularly the pectoral area.
Elbow joint (tennis elbow) - This is usually irritated by repetitive extension of the wrist which in time can irritate at the point of insertion at the elbow joint. It is important to check that your grip size and racket weight are correct and stretch the wrist joint into flexion.
Wrist joint - Make sure you don't hit power shots as soon as you step on court. Warm up on the service line keeping your shots gentle.
Core - Much of the power shots in tennis use your core muscles. A good strong core will help you with balance, agility and power. Pilates exercises are a good way of strengthening core muscles. Weekly clinical pilates classes are held at Spire Manchester Hospital by one of our specialist physiotherapists.
Spine - Thoracic rotation and backward bending are good spinal stretches.
Hip joint - Good flexibility in your hips is needed for lunging, side stepping and stretching when playing tennis and without that flexibility it could lead to groin or hip issues.
Strong legs - It is important to have strong thigh muscles (quadriceps) and buttock muscle (gluteal) as the force on your knees when twisting, jumping and lunging in tennis is high and strong legs will reduce your injury risk.
Balance - This is essential as in tennis you are jumping and landing on one leg, changing direction quickly and moving side to side. Good balance will help protect your ankle joint.
Advice - As we are all different shapes and sizes and some may have specific concerns our best recommendation is to contact our physiotherapy team for help and advice and we would be happy to help.
By Jill MacKenzie, Physiotherapist
For more information about our physiotherapy services please contact us.
The content of this article is provided for general information only, and should not be treated as a substitute for the professional medical advice of your doctor or other health care professional.