Physiotherapist, Laura Edwards, develops hand therapy app
Our Physiotherapy Manager and Specialist Hand and Wrist Physiotherapist, Laura Edwards, has developed an app for hand therapy in collaboration with the Pulvertaft Unit, Royal Derby Hospital NHS Foundation Trust.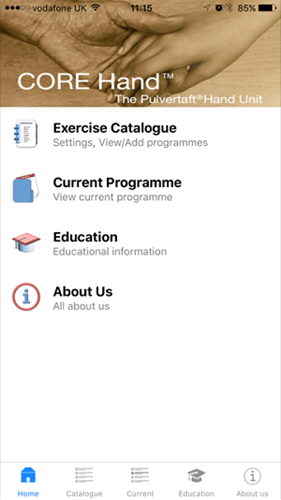 Laura first began the process of developing this application in 2012, when she found that many of her patients improved their exercise performance through the use of video feedback using their mobile phone camera.
This then provided a platform from which to develop the concept. She has worked closely with her colleague Gemma Johnson, Senior Occupational Therapist, at the Pulvertaft Hand Unit and Simon Toms, App Developer, the onsite Audio Visual Team and the Health Enterprise East Innovations team at the Royal Derby Hospital to make the concept a reality.
The app contains a catalogue of exercises that may be prescribed by a Hand Therapist to promote improved exercise performance, improve patient experience and therefore positively affect patient outcomes in the long term.
Laura is the Physiotherapy Manager at Spire Manchester Hospital. She is a physiotherapist with experience in a number of physiotherapy specialties. Since 2008 she focused on the field of hand therapy, initially at the Norfolk and Norwich University Hospital, before moving to the internationally acclaimed Pulvertaft Hand Unit at the Royal Derby Hospital in 2009. In 2014 she relocated to Manchester and now works as the Clinical Team Leader and Specialist Hand and Wrist Physiotherapist at Spire Manchester Hospital.
Laura is known for her dedication to providing premium patient care whilst exploring the development of hand therapy and physiotherapy provision.
Laura Edwards is physiotherapy manager and specialist hand therapist at Spire Manchester Hospital.  For more information or to book an appointment with Laura, please call 0161 447 6900.
Thank you for your booking request, we will get back to you shortly.