Hospital food: breaking the mould
Most of us think of hospital food with a grimace on our face. It conjures up images of unidentifiable slop with a side of something that started life as a vegetable, but no longer resembles any of its former nutritious glory. Still the subject of many a social media post and tabloid article, patients often worry about what they may be served. Some even resort to asking family and friends to bring in supplies when visiting. Times are changing and our team at Spire Manchester Hospital are committed to busting myths surrounding hospital food.
Hippocrates said "Let food be thy medicine and medicine be thy food", yet more than 2,000 years on we are still struggling with this basic guidance in hospitals. In 2017, we have more knowledge and access to information than ever before about eating well and the effects our diet and lifestyle can have on our health and well-being. There are changes taking place across the UK, however many hospitals are still falling short of patient expectations. There is a real opportunity for hospital food to be a builder of strength, giving patients the nourishment they need to get better. Looking forward to the next meal, instead of a sense of dread, can have real value to a patient in hospital.
In recent years there has been a lot of scrutiny around hospital food with a BBC TV series and last year a full report into the current state of hospital food in London was undertaken by the Campaign for Better Hospital Food. The report focussed on whether hospitals cooked fresh food on-site for patients and staff, if meals were served in aeroplane-style ready meal packaging and if the hospitals were hitting the basic hospital food standards.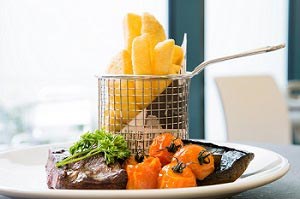 At Spire Manchester Hospital the catering team have made it their mission to provide fresh, tasty and wholesome food to give our patients the best possible experience. All of our food is freshly prepared from scratch, on-site by our in-house chefs. The wide choice on offer caters for all dietary and taste requirements. Fancy steak and chips followed by Eton mess? No problem. Or how about grilled cod with herb roasted potatoes and a fresh fruit salad? You've got it!
The Spire Manchester team have also developed a special children's menu with an activity pack to ensure our younger visitors are looked after. Children can also take part in a colouring competition and can even be presented with an "Awesome Artist" certificate for their efforts.
Spire Manchester Hospital's priority is always our patients and aiding their recovery. While they are with us, we want to make sure all our patients feel looked after, and providing nutritious, tasty meals that patients look forward to is one of the ways we do this.
If you are due to come into Spire Manchester Hospital, the quality of the food is one worry you can tick off your list.