Halloween special: How to safely carve your pumpkin!
Zaf Naqui FRCS, BDHS, EBHD, MSc (Hand Surgery)
Consultant Hand & Wrist Surgeon, Manchester
Each year we will see a large spate of finger and hand injuries around Halloween. An American study found several thousand Halloween injuries per year of which a fifth were to the hand1.
Hands are intricate and complex structures. An injury to the hand may damage the skin, a blood vessel, nerve, tendon or joint. Serious injury can lead to loss of hand function or result in finger amputation. Whilst it can be difficult to curb the enthusiasm of children, there are a number of things you can do to avoid these entirely preventable injuries.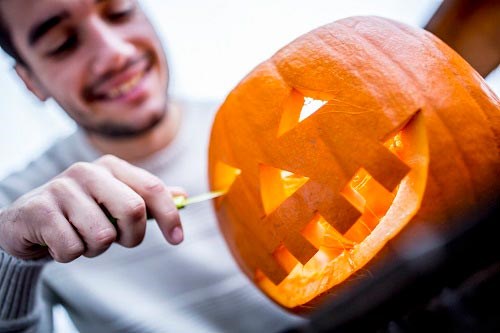 Top tips:
Avoid carving altogether by using a pumpkin decoration kit.
If you are going to carve, consider a carving kit which has stencils and smaller, blunter carving knives. Involve the little ones by getting them to draw out the design and leave the carving to an adult.
Carve on a well-lit, dry, flat surface. Dry your hands repeatedly on a towel throughout carving, to avoid your knife slipping.
When carving, use a smaller, serrated knife – these are less likely than a sharp knife to get stuck deep inside the thick pumpkin flesh.
Cut away from yourself and carve into a full pumpkin, not a hollow one which may slip from your hand. Start carving from the top and work your way down.
If placing a flame within your pumpkin, do it from the bottom (not the top) of the pumpkin, this will reduce the chance of a burn to the skin.
In case of injury:
Run your hand under cold running water and wash with soap.
Apply direct pressure for 10-15 minutes.
If the finger changes colour, is tingling or numb, doesn't move or doesn't stop bleeding attend your local emergency department. You may need to be seen a hand specialist or require hand therapy following an injury.
Mr Zaf Naqui is a consultant orthopaedic surgeon specialising in the hand and wrist. For more information or to book an appointment with Mr Bromage, please call 0161 447 6700.
The content of this article is provided for general information only, and should not be treated as a substitute for the professional medical advice of your doctor or other health care professional.
1 D'Ippolito A, Collins CL, Comstock RD. 'Epidemiology of paediatric holiday-related injuries presenting to US emergency departments'. Pediatrics: 2010 May;125(5):931-7.