Mubarak Palmer - a Perform Liverpool Success story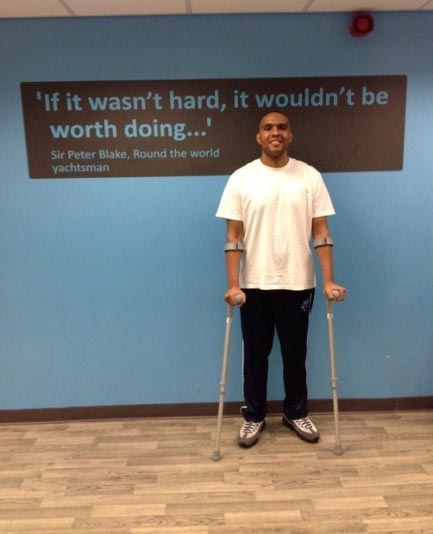 In November 2013 Mubarak Palmer, or Mibbs' to his friends, was diagnosed with leukaemia for the second time. On this occasion the disease was attacking his central nervous system, meaning he was unable to walk and had lost a large amount of muscle control in his arms and legs.
Following his diagnosis, Mibbs' spent most of the next three months in bed. During this time he received very aggressive chemotherapy. By the end of his hospital stay Mibbs' was easily exhausted even by the simplest of tasks and had lost almost seven stone in weight.
Mibbs' desire to regain his independence brought him to Perform Liverpool. Following an assessment, a progressive treatment and training regime was specifically developed with Mibbs' attending on a daily basis.
The physio team worked with him using specialist neurophysio techniques, CompexTM muscle Stimulation, AlterGTM (Anti-gravity treadmill) and pilates-based gym rehab. Mibbs' has particularly enjoyed the opportunity to get the boxing gloves on and get his own back on his physiotherapist!
Mibbs' quickly regained his sitting balance and progressed to standing with support. More recently he has progressed to using crutches independently and now attends the gym, with a conditioning programme supplied by his physiotherapist.
From his first appointment, Mibbs' has shown an unbelievable level of motivation and dedication to his rehab programme. This commitment has been matched by the therapy team who want to help him achieve his target of walking independently.
"Mibbs is a great patient to work with, no matter what we ask him to do he always gives 100%. All the staff enjoy working with him and we are constantly looking for new ways to challenge him," said Ian Rodger, Perform Manager.