Hospital Director gears up for cycle challenge
Spire Liverpool Hospital's Director Fergus Macpherson joined the CEO of Spire Healthcare, Rob Rodger and Consultant Orthopaedic Consultant Peter Brownson at Spire Summer Ride recently. The team took to two wheels again for the second annual charity cycle challenge, this year raising money for Harrison's Fund.
Rob, along with 200 fellow Spire cyclists, pedalled over 720km – the distance between nine Spire hospitals - and was joined by Fergus and Peter for the Manchester to Blackpool leg of the ride, a total of 106.4 km. This is the second year the big boss of Spire Healthcare has got on his bike for charity, having last year cycled over 620km to raise money for Walking with the Wounded and Macmillan Cancer Care. 
This year Rob has chosen the organisation Harrison's Fund. The charity is named after an eight year old boy from Surrey who was diagnosed with Duchenne Muscular Dystrophy, a fatal genetic condition that affects the muscles, causing muscle weakness. The charity's goal is to get as much money as possible into the hands of the world's best researchers, who are working to find a cure for Duchenne.
"We are really pushing ourselves for this challenge", said Rob, who holds Harrison's Fund especially close to his heart.
"We at Spire are an outgoing, proactive bunch of people and we are so pleased to be able to do something as simple as riding our bikes to contribute to this wonderful charity". 
Fergus added "I agree with Rob, as a company we like to do our bit and within our each individual hospitals, we all hold many charities close to our heart and regularly raise money for charity. At Spire Liverpool Hospital we have an amazing charity team that does some really great work locally. As an avid cyclist it's been a great privilege to join the team for such a great cause ".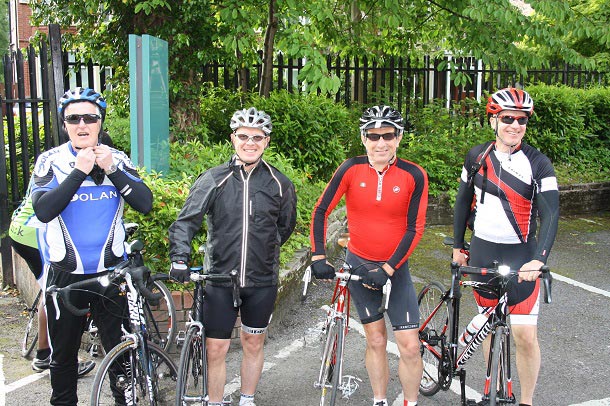 Chris Walker, Peter Brownson, Tony Barcroft and Fergus Macpherson