The sky's the limit for latest balloon aided shoulder procedure
It is a very common injury and one that, in many instances, is relatively easy to fix with a surgical repair.
However, when Colin Overton-Fox tore the rotator cuff in his right shoulder after an awkward fall, the damage was too severe for a conventional procedure where the torn tendon and muscle would be stitched back into place.
So when 68-year-old Colin met with shoulder and upper limb surgeon Mr Munawar Shah, at Spire Little Aston Hospital, they looked at other options – including the insertion of a balloon into the shoulder that would then be filled with water.
The InSpace system is designed to create a physical barrier between the damaged tissues and the bone, allowing friction-free movement of the shoulder by mechanically pushing the ball into the socket without any pain.
Mr Shah explained: "The actual tear was irreparable so we had to look at other ways of reducing pain and increasing movement. The balloon is put into place then inflated with a special fluid so that it pushes to ball part of the joint back into the socket."
Muscle memory ensures that once the balloon biodegrades after three months, the patient retains their new function.
"It is difficult to explain how inconvenient or uncomfortable the injury was," Colin said, revisiting the limitations he endured pre-surgery. "It prevented me from not only enjoying my interests such as golf, outdoor photography and swimming, but also the simplest of activities that one takes for granted.
"Raising my arms to wash my hair, reaching for things on shelves or across a table or putting parking tickets into car park exit barriers, was a painful impossibility. Even tucking my shirt into my trousers was impossible as I could not reach behind me. I could never have guessed how much you depend on a full range of shoulder movement to simply get on with day-to-day life."
As for his road to recovery, Colin, who lives in Rugeley with his wife, described the first six weeks as 'a little awkward' but then added: "By following the Spire care plan and attending regular physiotherapy sessions the recovery to almost full range of movement was surprisingly quick.
"I would estimate my range of movement is back to at least 95% of normal and I can reach, lift and dress and basically do all normal day-to-day activities.
"We have recently moved house which has involved a lot of lifting, carrying, DIY and all the other activities required when moving home - all of which I have done without restriction – in my view a testament to a successful operation and very positive outcome." he concluded.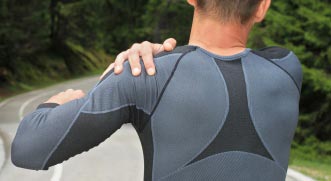 For more information on shoulder surgery, please contact Spire Little Aston Hospital on 0121 580 7119 or visit www.spirelittleaston.com