Spectacular results from lens operation
When she realised she had a pair of reading glasses in every room of her house as well as in most of her coat pockets, former school teacher Pat Gardiner decided she had to do something about her eyesight.
She didn't want to continually wear glasses, didn't fancy contact lenses and was too old for laser surgery so Pat, one-time Head of English at Fairfax School in Sutton Coldfield, started to research other options.
"By coincidence one of my gym buddies told me about lens replacement - she had had the procedure done and was delighted with the results," she said.
Along with her husband Max, Pat attended a presentation by Consultant Ophthalmic surgeon Mr Daniel Calladine at Spire Little Aston Hospital Eye Centre and, after meeting Mr Calladine, discussed the various different ways of correcting glasses prescriptions and vision.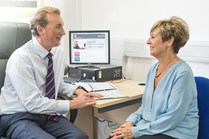 He explained: "The procedure is very similar to cataract surgery in principle. The natural lens become less flexible with age, and less able to accommodate (change shape) to focus on reading for example.
"The distance vision can also become blurred if the patient's glasses prescription keeps changing. Although the lens is not yet cloudy like a cataract, it can still be removed safely and replaced with a synthetic lens inside the eye.
"In Mrs Gardiner's case I was able to use an 'extended range vision' lens, that allowed her to see both distance, middle and near vision for reading without the need for glasses afterwards"
"A tiny keyhole micro incision on the cornea allows an ultrasound probe to break up the natural lens. The fragments are then removed and a new lens is inserted in to the capsule of the old lens, which then holds it in place without the need for stitches.
"The operation takes about 10 minutes and we usually do the second eye 1 week later. As well as correcting long and short sightedness, the lens is also able to correct astigmatism and problems with reading vision. "
Now working as an Association Visitor for the Motor Neurone Disease Association, Pat said: "To be honest I was uncomfortable for a day or two as my eye felt a bit gritty and my vision was occasionally blurred.However, when the second eye was done my sight was clear and focussed from the moment I removed my eye patch and I was home in time for lunch!"
Keen skier Pat is now looking forward to her next trip to the slopes knowing she won't have to make the dreaded 'glasses or goggles' choice.
She has already sent almost 20 old pairs of glasses to Oxfam and is certain she will be sending many more as they continue to turn up in 'the strangest of places'.
"'Based on my experience I wouldn't hesitate to recommend Mr Calladine and the Spire Eye Centre for this procedure. I can honestly say the results have been spectacular."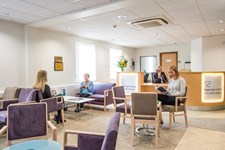 To book an appointment at our dedicated Spire Eye Centre, please call 0121 580 7171.
You can find us just to the north of Sutton Coldfield, in the rural area between the villages of Mere Green and Aldridge. We're a short 25 minute drive from Birmingham city centre and our main motorway links are the M6, M5 and M42.