Don't be weighed down by unnecessary pain of kidney stones
Kidney stones will occur in about 5% of people in the UK but in many cases will receive delayed diagnosed – causing sufferers to have to endure symptoms for much longer than necessary, according to Consultant Urologist, Mr Haider Syed.
Now, as part of Urology Awareness Month – which runs throughout September – Mr Syed, explains the signs to look out for to suggest you might have kidney stones.
He explained: "Patients often suffer with long term symptoms, varying from low level back pain, recurring urinary infections and blood in the urine. Unfortunately many are given antibiotics or pain killers, when what they really need is investigation for kidney stones".
"Once these smaller stones are detected and identified they can, in many cases, be dealt with very quickly and painlessly using medication. However, until the stones are spotted and dealt with, the patient's painful symptoms will continue."
About 10% of the population will suffer from kidney stones at some point in their lives with all age groups affected but especially people aged between 20 and 50 years. They are also more common in men. They occur as the kidneys filter unwanted materials from the blood. These bits of waste can form very small crystals which can gradually attach to other crystals and develop into stones over the years. 
They can range in size from very small grains to much larger stones. Although small stones typically cause acute pain, the larger stones could be silent and if not diagnosed may gradually permanently damage to the kidneys.
 "Spotting and addressing symptoms early will help you get speedier and better treatment, and give you the best chance of living life to the full again," explained Mr Syed who said people should look out for:
Pain in the back and groin
Feverish symptoms
Blood in your urine
Recurrent urinary tract infections
If the stones are only small then patients may be given painkillers and advised to drink lots of water and they should pass through the body naturally.
However, if surgical intervention is necessary then there are a number of modern procedures that can be carried out, including the use of laser in selective cases, for complete clearance of the stone.
"In the case of very large stones then keyhole surgery may be required but this is very rarely the case," said Mr Syed. "The main thing is, whatever their size, to get them properly investigated and treated as soon as possible so you can get back to a pain-free lifestyle."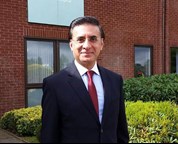 For an appointment with Mr Syed, contact Spire Little Aston on 0121 580 7119