2017 – The year men make the changes?
Cosmetic surgeons are predicting a major increase in the number of men seeking treatments in the New Year with middle-aged males leading the call for change.
Men start to lose their natural shape at an age when they have more disposable income due to children leaving home and mortgage payments nearing completion.
In the past they may have treated themselves to a new car or some other luxury but nowadays body issues and maintaining youthful looks seems to take priority," said Consultant Plastic Surgeon Anne Dancey.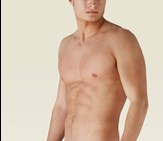 Top of the list could be 'man boob' reductions as more and more men realise that exercise and diet aren't enough to shift them completely.
"Losing weight is the first option and one I would recommend to any man worrying about his breast becoming too prominent. However, on many occasions it is the actual build-up of breast tissue that causes the problem and this can only be removed by surgery," explained Anne, who practices at Spire Little Aston Hospital, Sutton Coldfield.
 "As men get older they produce less testosterone. Older men also tend to have more body fat which can cause more oestrogen to be produced. These changes in hormone levels can lead to excess breast tissue growth," said Anne.
"This means that even though a man has kept himself in reasonable shape his breasts could still look enlarged. In the past many men have just 'put up with it' or started wearing baggier shirts but as we get more body conscious they are deciding to do something to change their shape.
"Gynaecomastia, or man boob reduction, is a fairly simple operation which usually entails an overnight stay in hospital. Afterwards patients have told me how much more confident they feel. I have also seen an increase in the number of men wanting nipple reductions – again because they feel their nipples are too prominent, particularly under summer shirts and t-shirts."
Anne said it was very important for patients to be confident both in the surgeon and in the actual decision they were making.
 "Make sure the surgeon is suitably qualified and experienced. It is important that you feel confident with your surgeon and that they fully discuss the procedure including the recovery and any potential risks and complications. I would also recommend staying close to home. Travelling miles to get a cheaper treatment is not an option I would advise.
"If you do your research then there will usually be a very competent and qualified surgeon within reasonable travelling distance who can do the work for you at the standard you expect.
Anne says she has seen major changes in male attitudes to cosmetic surgery over the past few years.
"Cosmetic surgery isn't just for women anymore as more and more men are realising the boost in self-confidence that it can have on them.  
"For example more men are now having eyelid surgery (blepharoplasty) which can give a fresher, more youthful look by removing excess and fat from around the eyes," said Anne.
 "Procedures such as eye-bag reduction and scar removal will help to make the face tighter and smoother and may also give them a more youthful appearance. We now live in an age when men are just as concerned about their appearance as women and so demand the same sort of cosmetic treatments.
"Neither will men put up with facial blemishes such as warts and moles - why should they when getting them surgically removed can be so quick and easy," she added.
Anne is offering free mini consultations for anyone considering cosmetic surgery. To book your place or for more information, call 0121 580 7119 or email info@spirelittleaston.com.