Trigger finger - what exactly is it?
Mr Dan Thornton, consultant plastic, reconstructive and hand surgeon tells us more about this common hand condition.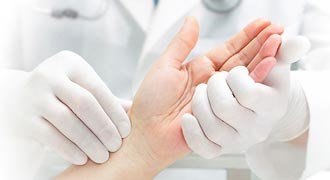 What is it?
Trigger finger / thumb occurs due to friction between the flexor tendons and the entrance to the flexor sheath, the tunnel within the fingers, through which the tendons that bend the fingers pass. This friction causes both swelling in the tendons themselves and thickening of the mouth of the tunnel at the level of the palmar crease at the base of the fingers. This swelling interrupts the smooth gliding of the tendons within the tunnel with bending and straightening of the fingers.
What are the symptoms & signs?
Symptoms and signs can vary and often start with clicking of the fingers on movement which is often associated with pain at the base of the fingers over the palmar surface of the knuckles. As the condition becomes more severe the fingers can painfully lock in flexion, often noticed first thing in the morning, and requiring extension using the other hand. As a result the fingers can stiffen with patients becoming reluctant to fully bend or straighten the fingers for fear of them locking, resulting in a reduced range of movement.

Sometimes the swollen part of the flexor tendons can be felt at the bottom of the fingers moving back and forth with finger movement.
Who can get it?
Trigger finger can affect anyone but usually affects people over the age of 40. Usually no cause can be identified although it is more prevalent in patients with diabetes, underactive thyroid, inflammatory arthritis or following hand trauma.
A congenital form of trigger thumb is also seen occasionally in babies where it is identified by a flexed position of the thumb that cannot be straightened.
What is the treatment?
Trigger finger / thumb is diagnosed clinically, based on the patients' symptoms and examination findings. Occasionally imaging with ultrasound can confirm the diagnosis in cases where the diagnosis is uncertain.
The condition can settle spontaneously with avoidance of activities that cause pain or splintage of the affected finger in an extended position at night. The majority of cases are treated initially with a steroid injection into the tunnel to settle the swelling which is successful in most cases in reducing or stopping the pain and clicking. Failure of injection therapy or recurrence requires surgical release which is usually carried out under local anaesthetic injection as a daycase with the patient awake. The roof of the tunnel entrance is divided under direct vision through a small scar in the palm at the bottom of the finger or with a needle through the skin.
The clicking and locking should stop immediately following surgical release with restoration of full range of movement of the fingers. The scar tenderness and lumpiness settles over a few weeks.