May is Skin Cancer Awareness month
Melanoma is the most deadly form of skin cancer. It can appear as a new mole or an existing mole that changes in size, shape or colour - left untreated it can spread to other parts of the body.
As part of Skin Cancer Awareness month Dr Wal Hussain, consultant dermatological surgeon at Spire Hospital in gives advice on how you could spot moles on your skin.
Melanoma can appear on any area of the body – even where the skin is not normally exposed to the sun.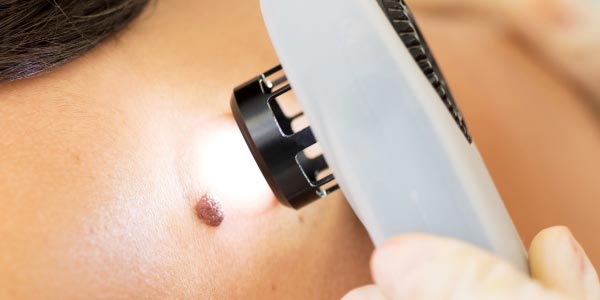 Look at your skin and examine your moles regularly (1-3 monthly) as the sooner a skin cancer is detected and treated – the better your chances of cure.
Skin cancers seldom cause symptoms – however if a mole starts to itch, become painful, bleeds, gets crusty or inflamed consult your doctor.
Remember the ABCDE rule which is a common screening tool used to compare the appearance of normal moles versus a possible melanoma. Not all melanomas fit into these rules so if in doubt see your doctor. If a mole changes in size, shape or colour, consult your doctor.
Asymmetry: when one half of the mole doesn't match the other
Border: when the borders are irregular, ragged or blurred
Colour: when the colour changes or varies throughout and/or there appears to be no uniform pigmentation
Diameter: when the diameter is greater than 6mm (but could be smaller)
Evolving: changes in the mole over variable time: weeks, months or years
If there are any suspicious features about your mole – then your doctor will refer you to a dermatologist for assessment. Some moles may require removing under a local anaesthetic procedure for further analysis.
What is a mole?
A mole, also known as naevus, is a pigmented lesion that can be present on any part of the skin. Most of our moles appear in childhood and they change slightly and gradually as the child is growing up. Moles can be flat or raised. Some of them have hair growing out of them.
What is a freckle?
Freckle is a type of a pigmented lesion that appears only on the area of the skin exposed to the sun. Their intensity and colour varies and depends on the amount of sun exposure. Freckles tend to be more prominent in the summer and fade in the winter. People with a fair complexion, blond or red hair have more freckles.
How can you tell the difference?
Freckles are in sun-exposed areas, they are usually lighter than moles. They are multiple (many of them in the same area).
What changes should you look out for?
Rapid change in size, shape or colour of the mole requires a prompt check-up with a doctor. Unexplained bleeding or itch from a mole also needs to be checked.