Life Saving CPR treatment for Guiseley man having Cardiac Arrest
If you have a cardiac arrest it helps to be in a place where you can receive the immediate medical attention you urgently need. It's possible to survive and recover from a cardiac arrest if you get the right treatment quickly.

That was the case for Barrie Emmans, 80, a retired businessman from Guiseley, who was revived by the crash team at Spire Leeds Hospital.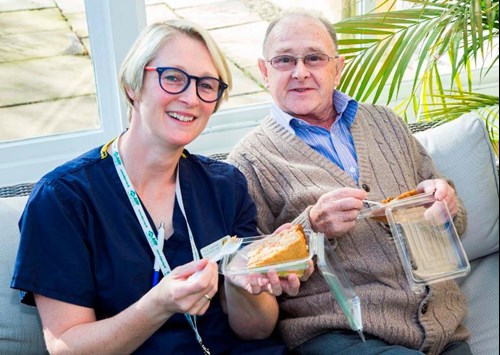 Mr Emmans was recovering from colorectal surgery, which he had undergone the previous day. He came into the Hospital on September 22nd and was being looked after by Frances Dixon, critical care and cardiology services manager, when he went into cardiac arrest.

"One minute I was talking to Fran and the next I knew, I felt my pulse slowing, I was dizzy and felt as if I was going to faint, the last thing I remember before I blacked out was Fran rushing towards me." he said. She immediately hit the alarm button and the crash team came running in.

Frances Dixon described the CPR treatment that she and the crash team administered. "Mr Emmans was doing well that morning after surgery. I was with him and witnessed him going into cardiac arrest and was able to start resuscitation immediately. I pressed the button to summon the crash team and Julia Spencer, resuscitation lead was the first on the scene followed by the rest of her team. We started CPR and after a few minutes Mr Emmans regained consciousness. Mr Emmans required a pacemaker fitting, which he now has, because his heart beat was going too slow at times and on this occasion stopped."

Mr Emmans said, "The first face I saw when I regained consciousness was Julia Spencer's, the resuscitation lead and I counted nine people from the crash team around me."

As soon as he was stable, his consultant Mr Julian Hance suggested he was transferred to the coronary care unit at the LGI where he had a pacemaker fitted. A few days later Mr Emmans chose to return to Spire Leeds Hospital to recuperate from his laparoscopic abdominoperineal operation* where he stayed until he was discharged on October 3rd.

Mr Emmans has had two heart attacks previously. The first, which he was unaware of, happened in December 2001 as he approached semi retirement. He was a partner in a small business, based in Armley, Leeds, which manufactured specialised machinery for sewing machines. He and his wife, Mary, went on holiday to Palm Springs, USA and he woke one morning with sore and bruised ribs.

"I thought my wife had prodded me as she sometimes did to stop me snoring. She said she hadn't and the pain wore off so I didn't think any more about it," said Mr Emmans.
Then in February 2002 he had a heart attack while on holiday in Florida. During the tests at the Seven Rivers Medical Centre in Crystal River, the medical team discovered he had suffered a heart attack a few months previously and they worked out it was when he was in Palm Springs.

Due to Mr Emmans heart size, the hospital he was admitted to did not have small enough stents to perform an angioplasty (to open up the blocked artery).
"I was transferred to a hospital in Ocala, Florida, which specialises in treating people of Chinese and Asian descent as they are usually of smaller build with smaller hearts," said Mr Emmans who, after having the stents fitted, was prescribed medication and some life changes, which he has continued to take for the last 15 years.
Mr Emmans has his own blood pressure monitor at home and noticed over the last year that his beats per minute were dropping. "The doctors said it was probably due to one of the medications I was taking and not to worry about it and to continue taking it."
Whilst he was in HDU, his heartbeat stopped completely, causing him to go into cardiac arrest. Mr Emmans thinks the medications he was taking, combined with the anaesthetic might have triggered the attack.
Mr Emmans is now at home being cared for by his wife and close family and feeling much better. He is full of praise for the medical team who saved his life. "God bless them, they saved me. I don't think I'd be here today if I was not being monitored so closely and they had not acted so quickly. My wife and I feel very emotional about it and we are very grateful to the team at Spire Leeds Hospital. I've felt well since then and life is getting back to normal."
---
Cardiac Arrest
Cardiac arrest happens when the heart stops pumping blood around the body. CPR involves:
• Chest compression (pumping the heart by external cardiac massage) to keep the blood circulating around the body.
• Rescue breathing (Using a bag-valve mask or pocket mask).
Causes of cardiac arrest
The most common cause of cardiac arrest is a life threatening abnormal heart rhythm called ventricular fibrillation (VF).
Ventricular fibrillation happens when the electrical activity of the heart becomes so chaotic that the heart stops pumping and quivers (or fibrillates) instead. Heart-related causes of VF include coronary heart disease, heart attack, cardiomyopathy, congenital heart disease, heart valve disease, acute myocarditis (inflammation of heart muscle) and abnormal heart rhythms.
What's the difference between a heart attack and cardiac arrest?
Although a heart attack can lead to a cardiac arrest, they are not the same thing.
A heart attack is a sudden interruption to the blood supply to part of the heart muscle. It is likely to cause chest pain and permanent damage to the heart. The heart is still sending blood around the body and the person remains conscious and is still breathing.
A cardiac arrest occurs when the heart suddenly stops pumping blood around the body. Someone who is having a cardiac arrest will suddenly lose consciousness and will stop breathing or stop breathing normally. Unless immediately treated by CPR this always leads to death within minutes.
A person having a heart attack is at high risk of experiencing a cardiac arrest.
Both a heart attack and a cardiac arrest are life-threatening medical emergencies and require immediate medical help.

Source: British Heart Foundation www.bhf.org.uk/heart-health/conditions/cardiac-arrest