Computer aided surgery helps rebuild motorbike rider's leg after horrific accident
Computer aided surgery (CAS) has revolutionised orthopaedic surgery procedures in recent years and the demand for it is growing as technology continues to advance at a rapid pace.
The advantages of CAS, which uses computer technology for planning and performing complex surgery, include increased precision and accuracy as the computer uses an infra-red navigation camera and wireless Smart instruments to measure the anatomy and show the surgeon exactly where to make the cuts.
Rachel Phillips, 52, from Leyburn, North Yorkshire, is one of the latest to benefit from this advanced technology at Spire Leeds Hospital.
Rachel's life changed dramatically after she was involved in a horrific motorbike accident in Arthington near Leeds. After colliding with a 4 x 4 vehicle she was thrown through the air and landed in a ditch at the side of the road, which left her with a shattered right leg and compound fractures to both arms.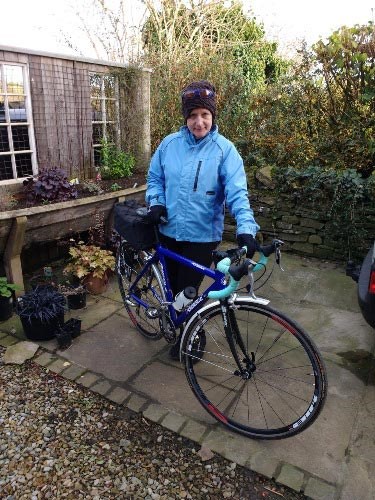 "My husband John was on his own bike following behind me. He watched in horror as it happened. I was surprised that I was still conscious but when I tried to sit up to look for John I discovered I couldn't move."
Rachel was taken to a Leeds hospital's A&E department where she underwent emergency surgery and remained in hospital for the next seven weeks.
"I was lucky not to lose my right leg. The consultant managed to save it. If the immediate care in A&E had not been so good I believe I would probably have become an amputee," said Rachel.
Since that fateful day 20 years ago, Rachel has suffered from pain and disability caused by her injuries and between 1997 and 2002 had a series of operations, including bone grafts and pinnings as surgeons worked to repair the damage. The accident left her with her hip and ankle out of line. Rachel described her leg as looking like a 'banana' as she was grossly knock-kneed. The deformity caused a lot of associated pain in her leg, back, neck and jaw.
Having spent so much time in rehabilitation, Rachel found it difficult to pick up the pieces of her career in civil engineering consultancy and so felt it was time to move on – she has since had a variety of jobs, whilst dedicating time to improving her mobility.
Rachel needed a knee replacement, however because the bones, which would receive the new joint, were damaged it couldn't be performed in the traditional manner.
Then in April 2017, a surgical breakthrough finally happened. Rachel was offered computer aided surgery, which made a knee replacement possible. She underwent surgery under the care of Mr David Macdonald, consultant orthopaedic surgeon at Spire Leeds Hospital, one of the most experienced CAS knee replacement surgeons in the country and the only surgeon in Leeds using this technique. The technology, which is available to both NHS and self-funding patients at Spire Leeds Hospital, was used to shape the bones so they could now receive the new joint.
Mr Macdonald said, "Spire Leeds Hospital is a springboard for medical advances and this particular technology provides many significant advantages.
"The field of CAS is relatively young, however it's a field that is undergoing rapid change and the results are evident. It enables the surgeon to prepare the bone down to a millimeter precision-wise, to a degree not previously possible, so it's excellent in terms of accuracy."
Mr Macdonald explained why he selected this technique rather than using robotic surgery. "It would have been possible to deal with Rachel's deformity using either robotic surgery or computer aided surgery but the CAS navigated surgery is significantly more accurate, provides greater surgical precision and can deliver enhanced outcomes. I am sure it will remain the gold standard for these more complex deformities."
"By using this method, we have managed to restore Rachel's knee to the correct alignment. She can bend her knee to 90 degrees which is significantly greater than pre-operative status."
Today, she still has a damaged limb, however her leg is now completely straight. Rachel is delighted with the results and is steadily building her strength. She is already getting back to her fitness activities at the gym as well as riding her adapted pushbike.
Rachel said, "I don't think I will ever get back on a motorbike again. Thinking about the accident still makes me emotional. I used to enjoy riding pillion with my husband, and we would go touring in Europe. I wanted to learn to ride on my own and was riding a 'starter' bike when I had the accident. The ironic thing is that it was a little Honda 125 bike with L plates as I was getting ready to take my test, I never progressed beyond that stage."
Commenting after the surgery, Rachel said, "It's a turning point. I can now work on strengthening my muscles. I'm feeling a lot fitter, which is great because it helps me feel more positive about life and am optimistic about the future.
"Mr Macdonald is an amazing surgeon and I cannot praise him highly enough. The surgery has been life changing for me and I will be eternally grateful for the incredible transformation he has given me."
Computer aided surgery (CAS)
Computer aided surgery (CAS), also known as computer assisted surgery, uses an infrared navigation camera, wireless Smart Instruments, and intuitive software. This technology improves a surgeon's ability to visualize a patient's anatomy, track instruments, and deliver greater surgical precision.