Cancer survivor's fantastic fundraising for medical research
Cancer survivor and former Spire Leeds Hospital patient, Richard Maltby, has raised around £114,000 for charity over the past 14 years. He now plans to boost funds with his 15th annual RIM Charity Golf Challenge in July 2017.

Richard, 67, a retired manager at BT, who lives in Aberford, Leeds was diagnosed with bowel and colorectal liver cancer in 2002. Richard's prognosis at the time was about 40% chance of surviving five years. After life-saving bowel and liver surgery and a six-month course of chemotherapy at Spire Leeds Hospital, followed by an excision of tumour due to recurrence in 2004, he has now been clear of the disease for 13 years.

He was so grateful to the doctors for saving his life, this motivated Richard to challenge his surgeons to a golf tournament to raise funds for Rays of Hope Charity – the Yorkshire Liver Research Fund, to aid others with the disease. Together with his family and friends, Richard, who is a keen golfer, set up the annual event at Wetherby Golf Club. The appeal helps fund research into combined liver and bowel cancer, led by Professor Giles Toogood, who treated Richard at Spire Leeds Hospital together with Professor David Sebag-Montefiore and Mr Simon Ambrose.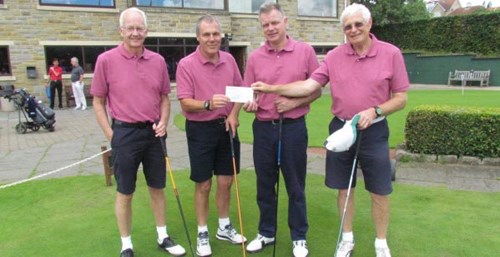 Richard, who is married with two children and one grandchild, said, "I was so grateful to the doctors for saving my life I wanted to say thank you in some way. The first tournament was such a success we decided to make it an annual event. We hope that by offering golfers an opportunity to compete against surgeons from Spire and other high profile teams this year's contribution will receive a significant boost."

Latest figures from Cancer Research UK suggest liver cancer rates are projected to rise by 38% in the UK between 2014 and 2035. It states 5,550 new cases were diagnosed in 2014 and 5,091 deaths from the disease in that same year. It is projected that 11,133 cases of the disease will be diagnosed in 2035. In addition, there were 41,265 new cases of bowel cancer in 2014. It's the UK's second biggest killer.

Professor Giles Toogood, consultant hepatobiliary and liver transplant surgeon at Spire Leeds Hospital, said "Unfortunately Richard's condition is not uncommon. Around 60 per cent of people with bowel cancer go on to develop liver cancer as well. We are extremely grateful for Richard's efforts and monies raised will help fund key developments in research for hepatobiliary surgery and oncology. It's support is invaluable in finding new ways to treat the disease; including research into the effects of using Omega-3 fatty acids on liver cancer, as well as working towards developing a new vaccine."

Richard's next golf day will be held at Wetherby Golf Club on Thursday 20th July 2017. He is expecting 20 teams of four, drawn from Yorkshire and beyond, to compete for prizes. These will be presented at an evening dinner, raffle and auction.