Baby finally diagnosed with milk allergy after months of anguish for parents
There can be few things more distressing for new parents than coping with a newborn that cries non-stop day and night.

Especially when the problem continues for months and the cause cannot be found.

That was the case with new parents Katie Justin and her partner Chris Rogers from Leeds when their baby Oliver, who was born in September 2015, cried incessantly for the first six weeks of his life leaving them feeling exhausted and helpless. Yet, babies are supposed to cry a lot aren't they?

"It started when he was born. His symptoms began to appear and he would cry and cry. The only thing that helped was to walk around carrying him," said Katie.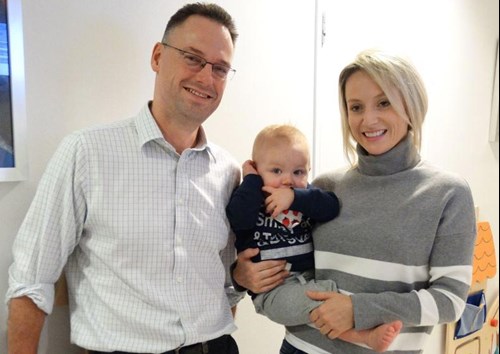 "It was high-pitched screaming 24/7 and he never stopped moving and writhing and had sickness but at first I thought it was normal for a new born. After six weeks it didn't get any better, we became exhausted and started to worry something was fundamentally wrong."

This worry was compounded when Katie started going out and mixing with mums of other young babies and soon realised they could sit quietly, even if only for short periods, but Oliver never did this. He was putting on weight normally however Katie said he suffered constantly from sickness and diarrhoea.

They took Oliver to see their GP who though the issue might be reflux and were advised to try various remedies, including keeping him upright when feeding. Katie also resorted to taking him to A&E at one point as she was worried about meningitis.

"We could not find out what was wrong and we were becoming increasingly desperate. Then we started to look at nurseries early due to long waiting lists and the owner/manager of one nursery we visited, Simon Pollard at 22 Street Lane Nursery in Roundhay, Leeds, recognised the symptoms and thought Oliver might have a milk allergy so I started to investigate and tried different types of milk, although nothing seemed to provide a solution." said Katie.
They moved house and neighbours, who were doctors themselves, showed concern when they saw Oliver, as their own son had suffered from an allergy, which had taken ages to diagnose. They recommended Dr Donald Hodge, consultant in paediatric allergy and general paediatrics at Spire Leeds Hospital.
Initially Katie and Chris had a consultation with Dr Hodge who, after examining Oliver and taking a medical history, diagnosed cow's milk protein allergy (CMPA) and reflux. According to Allergy UK, CMPA is quite common affecting around 3-6% of infants and young children and most outgrow it by around five years of age but it can be difficult to diagnose, as the symptoms are similar to other conditions. *
Dr Hodge said, "Oliver's symptoms were typical of cow's milk protein intolerance which was also causing gastro-oesophageal reflux. He was commenced on an appropriate hypoallergenic milk formula and additional treatment for reflux."

"It was such a relief to finally know what was causing the problem and what action we needed to take. We cut out cow's milk. Oliver was treated and stabilised. Dr Hodge provided emotional support when we felt there was nowhere else to turn. If I needed help, even at weekends I could contact him. I cannot speak highly enough about Dr Hodge and am so grateful to him. We could not have got through this without him," said Katie.

By March 2016 Oliver was much better and in June 2016 he started nursery. Today Oliver is a bright happy baby and feeding well. He is fitting into year two clothes even though he is only one-year-old. Dr Hodge said, "Oliver is typical of babies with cow's milk protein intolerance who in the majority of cases respond very quick to the correct treatment. I fully expect his milk intolerance to resolve and am confident that in the near future he will be back on a normal diet."

Katie added, "We are still not sure if the allergy is long-term or whether he will grow out of it, however now we know how to treat it. The difference to our life now is enormous. We are valuing the simple things in life again and enjoying time with our baby."

* Allergy UK - http://www.allergyuk.org/milk-allergy/milk-allergy
---
CMPA Symptoms
There are many symptoms a baby may suffer from when reacting to cow's milk protein, and the problem with diagnosing CMPA is that they are very common ailments, and often not linked to CMP in the first instance. Each baby is different and may present with one or a number of different symptoms in more than one area.
There are three main areas that symptoms will develop, these are: -
• Stomach problems (gastrointestinal) including vomiting, reflux, colic, diarrhea, flatulence, stomach pain and mucousy or bloody stools.
• Breathing problems (respiratory) including wheezing, sore throat, persistent runny nose or eyes, ear ache, persistent cough and itchy mouth or excessive dribble
• Skin problems (dermatological) including eczema, rashes, hives, wheals, contact dermatitis, swelling of the eyes and lips.
Symptoms can develop very quickly, during or shortly after consumption (an IgE allergy), or delayed over several hours & even days (non-IgE allergy).
Although more commonly in formula fed babies, symptoms can, and do, present in breast fed babies too. They will usually present in the first weeks or months of life, but a worsening of symptoms when trailed on or changed to formula milk can often be a good indication that allergy is present, even if there have only been mild or no symptoms when exclusively breastfed previously.

Source: http://cowsmilkproteinallergysupport.webs.com/symptoms