Spire Hull Hospital joins 'Safe Place Scheme'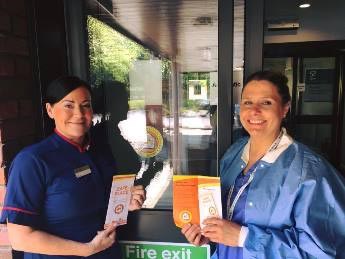 Spire Hull and East Riding Hospital have become the first hospital in the region to join the Safe Place Scheme. It is a simple scheme to help vulnerable people to stay safe while out and about in Hull.
The scheme is a partnership involving a number of agencies, voluntary groups and supporters including Hull City Council, Humberside Police, Police Crime Commissioner, Hull Community Safety Partnership, St Stephens, CASE, Barnardos and Dementia Academy.
The scheme works with a range of organisations and businesses to create recognised environments where people can go knowing that they will be safe. These include:
banks
shops and cafes
libraries, sports and community centres
train and bus stations.
Window stickers are displayed at the venues that are part of the scheme to show that they are a safe place to go.
The scheme is largely for people who:
have learning disabilities or difficulties
have dementia
need support or require assistance whilst in public.
However anyone who is feeling vulnerable, scared, confused or lost are able to access the scheme and ask for help.
The scheme is being led by Joanne Broderick, ward manager at Spire Hull Hospital who says, "Following a meeting with Humberside police I am delighted to inform you that our hospital has been entered in to the Safe Place scheme. We are the first hospital to be entered in to the scheme in the East Riding and we are very proud to be able to display the Safe Place logo here at Spire Hull."
Members of the scheme carry their individual card which contains their details and who to contact. This is often a family member, carer or social worker.
Anyone can apply for a card for themselves, or a friend/relative. You can apply for a self help card by emailing safeplace@hullcc.gov.uk.