New Year, new you? Don't battle weight loss on your own.
New Year, new you... But what if trying to attain a healthy weight has proved impossible and it is now affecting your general health and wellbeing?  Have you experienced the reality of the size ceiling? Overweight people are less likely to be hired, have fewer opportunities, and often suffer from unconscious bias in the workplace*. Coupled with the associated increased risk of suffering diseases such as Type 2 Diabetes, High Blood Pressure, Joint/Bone Disease (Osteoarthropathy), Asthma, Sleep Apnoea, and Cancer, (in 2015/16 there were 525 thousand admissions in NHS hospitals where obesity was a factor. Source NHSDigital) weight loss surgery could help you achieve more than just a better self-image.
Our consultants and weight loss team consider bariatric surgery to be the most effective and durable treatment for obesity, with current research generating long-term data showing durable weight loss and distinctive improvements in people's health outcomes and life expectancy. Bariatric surgery is a journey, not a destination, but the combined effect of the surgical procedure and metabolic changes mean an individual is less prone to overeating and experiences fewer food cravings.  However, we recognise the necessity for a multi-disciplinary approach to weight loss. Our team consists of medical/surgical specialists, a weight loss dietitian, a specialist bariatric nurse, a bariatric clinical psychologist and an endocrinologist.  They are from the only Level 1 Bariatric centre in the Thames Valley region, providing 24/7, 365 days a year cover for planned and emergency bariatric surgery care.  The team perform in excess of 200 bariatric surgeries a year and work closely together to provide support throughout a patient's weight loss journey.
Here at Spire Dunedin Hospital we thus offer a tailored approach to people who struggle with their weight, offering advice, treatment and support in the relaxed and comfortable environment here at Spire Dunedin hospital, one of Berkshire's leading private hospitals. We provide quality, affordable care with a single point of referral, short waiting times, and with appointment and treatment times to suit you.
Our services are open to everyone whether you have private insurance or are funding treatment yourself. We offer fixed price packages to cover your pre-operative assessments, surgery, and support and aftercare.
For all surgical procedures, we provide a comprehensive package of care which includes all pre-operative and assessment consultations, with regular post-operative follow-up from the whole weight loss team.
What is bariatric surgery?
Gastric Bypass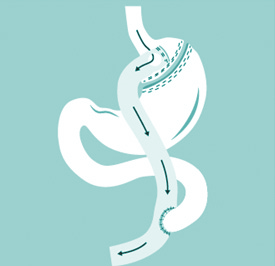 The gastric bypass is an operation that reduces the size of the stomach and creates a new join between the new stomach 'pouch' and the small bowel. Not only does this decrease the capacity of the stomach but it also allows food to enter a part of the digestive tract (the small bowel) much quicker than before.
This induces a change in a number of important digestive hormones that control hunger and satiety ('fullness') and also affects the way cells respond to insulin. The result is that patients do not feel hungry as much as before, they feel fuller quicker and they maintain much better control of their blood sugars (often reversing the effects of diabetes).
Like the gastric band, the procedure is performed under general anaesthetic normally using laparoscopic techniques. The size and position of the surgical incisions are almost identical to the gastric band operation, but it is longer procedure requiring specialist laparoscopic stapling devices that divide and join sections of bowel together. Patients generally stay in hospital for two to three nights.
Patients will typically lose around 60-70% of their excess weight over a two year period, often with a 'rapid weight loss' period for the first six months post-operatively. All obesity-related medical conditions improve after the surgery, but perhaps most strikingly it is the remission of Diabetes that has the most beneficial impact.
Sleeve gastrectomy
During a sleeve gastrectomy, a large portion of the stomach is stapled and removed, leaving behind a stomach 'tube' (rather than a normal 'sac' shaped stomach). This has a number of effects not only due to the decreased capacity of the stomach, but also as this allows faster transit of food into the small bowel (similar to, but not quite as effective, as the gastric bypass).
Patients will generally stay in hospital for two to three nights and will typically lose between 50-60% of their excess weight over a two year period.
Gastric Banding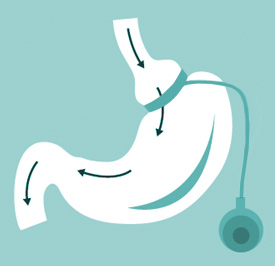 A gastric band is an adjustable silicone device that is placed surgically around the top of the stomach. The band is attached to a piece of tubing that is connected to a small port. The port can be accessed with a needle and water can be injected into the band to alter the pressure on the nerves at the top of the stomach.
The procedure to place the gastric band is performed under a general anaesthetic and is normally performed laparoscopically ('keyhole surgery') usually involving a one night stay in hospital.
The idea of the band is to encourage an eating pattern that allows small portions of food to pass into the part of the stomach above the band (the so-called 'pouch') which will then pass into the rest of the stomach causing a small stretch of the part of the stomach that is in contact with the band. This 'stretch' of the stomach sends signals to the brain that induces satiety – i.e., tells you that you have had enough to eat. Patients will then tend to feel less hungry and therefore eat smaller portions than they did before.
On average patients will lose 40-50% of their excess weight over a two year period.
Gastric Band Rescue Service
We also provide a comprehensive gastric band adjustment service or 'a rescue service' to patients who have had a gastric band inserted elsewhere and are experiencing difficulties or unable to access aftercare.
The prevalence of obesity increased from 15 percent in 1993 to 27 percent in 2015, and with the current restrictions on NHS funding meaning individuals need to wait at least 12-18 months from the point of their GP referral, for surgery.  They also need to have a BMI of 40 or more (or 35-40 with obesity-related comorbidities) to be considered for bariatric surgery.  Is it time you took control of your weight? Don't become more ill waiting for surgery – invest in your health.
(According to projections from the Department of Health, the cost to society and the economy of people being overweight and obese could increase to almost £50bn in 2050. It's easy to see why bariatric procedures make financial sense. )
*Obesity Discrimination in the Recruitment Process: "You're Not Hired!"  Stuart W. Flint,1,2,* Martin Čadek,3 Sonia C. Codreanu,4 Vanja Ivić,5 Colene Zomer,6 and Amalia Gomoiu7 Published online 2016 May 3, Frontiers in Psychology        https://www.ncbi.nlm.nih.gov/pmc/articles/PMC4853419/
If you would like to find out more about surgery or are seeking help on your weight loss journey, why not telephone 0118 955 3597 to discuss your options.