Introducing the EVA Cataract and Vitrectomy system
We are delighted to announce that Spire Dunedin hospital has entered into a joint venture with Mr Vaughan Tanner, Consultant Ophthalmic Surgeon, enabling those seeking treatment for eye conditions access to additional state of the art Ophthalmic surgical equipment.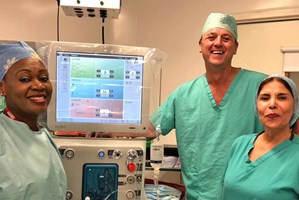 The EVA cataract and vitrectomy system brings the latest techniques in micro-incision cataract surgery and vitrectomy surgery to the hospital.  Improved fluid control within the eye by the use of two different pumps allows greater stability in eye pressure during both cataract and retinal surgery. Recently developed technology provides increased vacuum whilst increased cutting rates allow a safer, quicker procedure. 
Mr Tanner is now able to reduce wound size to 27 gauge incisions ensuring that sutures are very rarely required. This results in a rapid, pain free recovery with faster visual rehabilitation. The EVA system also features updated dual cut technology, allowing safer removal of the vitreous gel. There is thus a decreased risk of retinal problems during vitrectomy for conditions such as epiretinal membrane, macular hole, removal of vitreous floaters and retinal detachment repair.
For further information or patient referral please contact:
Mr Tanner's secretary Helen Douglass on 0800 644 0900 or
Mr Tanner's practice manager Mrs Shelagh Ferriman on 0800 644 0700.

For more information regarding the surgery carried out by Mr Tanner and for patient testimonials to the results he has achieved visit www.tanner-eyes.co.uk.
Patient information leaflets are also available on a wide range of eye problems.