Let our physiotherapists help you have a great ski season
It's the time of year again when people flock to the mountains to satisfy their love of skiing and snowboarding. However, to enjoy the sport fully skiing requires a range of fitness components such as strength and flexibility. Neglecting these can result in injuries, with the anterior cruciate ligament (commonly referred to as your ACL) in particular being the most common site of knee injury - accounting for 20% of all knee issues. From research, 26% of patients suffered damage in this area as a result of skiing, alone (Majewski et al 2006[1]). To minimise this risk being prepared for the slopes is a must. 
Getting fit for the slopes doesn't need to be boring and there is plenty that a snow sports enthusiast can do to help prevent any issues: muscular strengthening ranging from body weight exercise to resistance and weighted; core and pelvic conditioning; stretching; proprioception and balance exercises.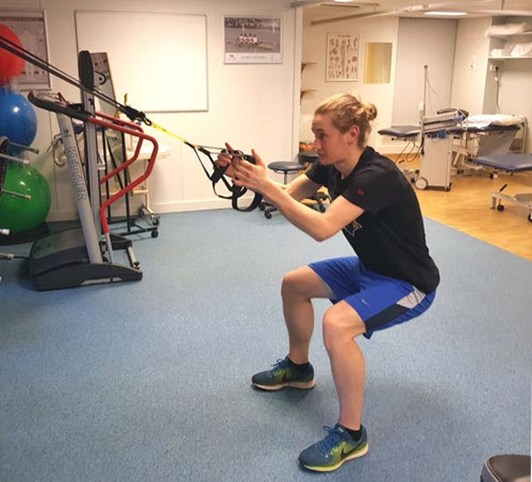 Developing muscular strength in the legs is important to stabilise the hips, knees and ankle joints - the more stable the joint and the stronger an individual is the less likely an injury will result. Exercises should be skiing specific (making them as close as possible to replicating the demands from the sport) and key muscle groups such as the quadriceps (thigh), gluteals (bum), gastrocnemius and soleus (calf) should be worked. Examples can include squats which can be done on a decline to mimic skiing, heel raises with variations to mimic carving and exercises for externally rotating the hip such as clams. Strength training should be done ideally three to four times a week with the idea of working towards fatigue, as skiing will fatigue your legs! Exercises for your core and deep pelvic muscles will help to develop a strong base for your legs to work from.
Balance and proprioceptive exercises should be challenging but can be fun and there's a variety of exercises you can do to keep you interested. Rotation based exercises of the upper limb whilst keeping the lower limbs fixed and unstable surface standing and landing exercises can all be incorporated into a pre-ski programme. These types of exercises are particularly important as there are likely to be small unnoticeable bumps during your time on the snow, so your body needs to be able to respond to these.
Stretching is an effective way of maintaining flexibility especially when coupled with strength training. Maintaining joint ranges and improving the muscle range for optimum strength, will help reduce injuries. A common stretch would involve stretching the calf complex (e.g. heel drops off the edge of the step) which will help with ankle flexibility in the boot.
Being physically fit will help on the slopes but with the right training programme, there will be time to build up your fitness before you go. As with all exercises and sport make sure you are fully warmed up before hitting the slopes and with a skiing programme which ensures there are rest periods during your time on the slopes, paying attention to the overload principle - don't overdo it! Your body will need time to rest, recover and adapt.
Why not book in to see a physiotherapist who can help develop a pre-ski programme and ensure you have the best time on the slopes.
[1]  Majewski, M; Susanne, H; Klaus, S (2006). Epidemiology of athletic knee injuries: A 10-year study. The knee. 13, 3, 184-188