You're not alone – coming to terms with a weight problem
Determination, accepting help and belief in you are all drivers that helped Lorna Murray on the path to coming to terms with and ultimately conquer her battle to lose nine stone in weight.
Lorna, who lives in Goldsworth Park, Woking was at a crossroads in her life with huge challenges and emotions to deal with. In addition to suffering from diabetes and other health issues, Lorna has a daughter with special needs who suffers from cerebral palsy and requires constant care. Lorna started, "I found that trying to cope with all of the stress, I was comfort eating more and more, blocking out the pain and not facing up to the problems. I was putting on lots of weight which was getting me down both mentally and physically. I couldn't walk far as I became out of breath and my knees and spine were painful."
It wasn't until Lorna received a real shock that she finally decided to lose weight and believe that she could actually do it. Lorna continued, "I had advanced cellulitis and nearly lost my leg. It was the final and most serious wake-up call". However, Lorna knew that determination and belief that she could do it alone weren't enough. She needed help and she was delighted to find that it is readily available.
"We found Spire Clare Park Hospital in Crondall (in between Fleet and Farnham) who offered private bariatric treatment. Though I had already started taking my fitness and approach to exercise much more seriously, I knew that I would need surgical intervention at some point. We read about the Upper GI and Bariatric Surgeon, Mr Shashi Irikulla who specialises in weight loss surgery. Mr Irikulla and his team performed a sleeve gastrectomy in January 2017 at Spire Clare Park Hospital. This a type of weight loss surgery using the keyhole technique that reduces your feelings of hunger and the amount you eat by reducing the size of your stomach."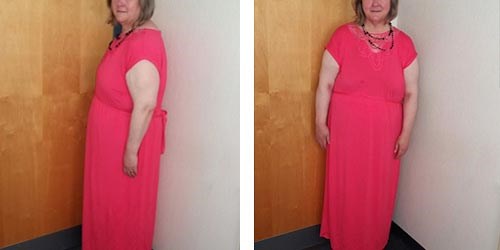 Losing nine stone has made a dramatic difference to Lorna's life and she is full of praise for the people who have helped her during her journey; Mr Irikulla, Paula Wood, Lorna's dietitian, Nigel Wilson, her physiotherapist who has been instrumental in supervising her rehabilitation and the team at Spire Clare Park hospital have all combined and given Laura belief in herself.
Lorna finished "I want to encourage people badly struggling with weight issues to get help. Face up to the problem. There is help and support out there; it is vital for your physical and mental health and wellbeing"
Mr Irikulla offers free 15 minute mini-consultations for those considering weight loss surgery. To find out more call 01252 895490.