Knowing your body and the symptoms of bowel cancer
In the UK, it is estimated that around 500,000 people are living with lifelong stomach issues such as Crohn's disease or ulcerative colitis, and 2 in 10 people are thought to have Irritable Bowel Syndrome (IBS). The symptoms of these diseases can be incredibly tough to manage. However, many patients are keeping these symptoms to themselves and are reluctant to seek help from gastrointestinal specialists.
Andrew Hunt, a patient who was struggling with his stomach and found out that he had bowel cancer after seeing Consultant Gastroenterologist, Dr Subramaniam Ramakrishnan, here at Spire Cheshire Hospital.
The research begins
Andrew first realised there was a problem after eating something and needing to go to the toilet straight away. The constant feeling of needing to go and being uncomfortable and feeling pain is very much a common symptom of irritable bowel disease (IBD) but is something that shouldn't be overlooked. "I was back and forth with my GP who gave me indigestion tablets. I knew something wasn't right and because I had private healthcare I searched for a gastroenterologist and chose to see Dr Ramakrishnan". Dr Ramakrishnan said "Andrew was referred with abdominal symptoms which he felt was new and unusual for him. Knowing your bodily functions is key to seeking help and on Andrew's shrewd observation of his symptoms, he was promptly referred by his doctors."
Experience with Spire Cheshire Hospital
Andrew explained "Within a week I got an appointment to be seen by Dr Ramakrishnan and he arranged for me to be scanned straight away. I had my follow-up appointment on the Thursday but Dr Ramakrishnan called me on Monday and asked to see me straight away. At this point, I knew there was something wrong. Dr Ramakrishnan was very compassionate when he broke the news to me that I had bowel cancer and it had spread into my lungs. He realised the urgency and worked with me to accommodate my wishes on how I wanted to be treated. Within three weeks I went from being diagnosed to being treated."
From the initial consultation, Andrew felt reassured by Dr Ramakrishnan's expertise and was surprised at how quickly the whole process was advancing. Dr Ramakrishnan was impressed with his awareness and how fit he was with no previous illnesses. On careful listening to his story and examining him, Dr Ramakrishnan organised an urgent CT scan which suggested the probability of bowel cancer which was then confirmed on an urgent colonoscopy and biopsies. The different teams in the hospital – appointments, radiology, bookings team, endoscopy staff, and ward staff were all involved in getting these tests quickly done despite covid-related issues.
Dr Ramakrishnan then stated: "We then discussed all the information obtained in a multidisciplinary team meeting that involved cancer specialists, surgeons, radiologists, and gastroenterologists like me. Andrew was then promptly referred for the treatment that was considered the best option for him and he is doing well on this as per his summary." He then added, "I encourage everyone young and old to listen to their bodily functions and seek help if something doesn't seem right."
Back to fighting fit
Since being treated, Andrew noticed that there has been a positive change in his bowel movements and overall wellbeing and wants Dr Ramakrishnan to know "since being treated I don't have those regular toilet visits or the constant feeling of being uncomfortable. I am now having chemo every two weeks and I'm now worry free, fighting fit, and back to enjoying reality!"
Signs and symptoms of bowel cancer
A persistent change in bowel habits
Blood in your stools
Abdominal pain, discomfort, and bloating
Constipation
Unintentional weight loss
Swelling of the stomach
Being sick
Dr Ramakrishnan hopes that IBS/Bowel Cancer Awareness Month will allow people to bring their problems into the open. Once they come to terms with their stomach issues, they can increase their quality of life and better manage their symptoms.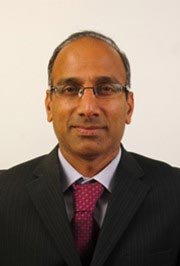 Consultant Gastroenterologist, Dr Subramaniam Ramakrishnan
Read more about stomach and bowel treatments available at Spire Cheshire Hospital.