Elstree Cancer Care awarded the Macmillan Quality Environment Mark (MQEM) for its high quality cancer care environment.
Elstree Cancer Centre has treated over 1,000 patients since opening in 2010, ensuring a constant high level of care is carried out in a state of the art environment. A highly skilled team of surgeons, oncologists and specialist support staff work together to provide treatment for a wide range of cancers using the latest technology and treatments. 
The Macmillan Quality Environment Mark was awarded following a rigorous inspection to assess the centre, ensuring it meets the high standards required by patients receiving cancer treatment. Developed in collaboration with over 400 people living with cancer, the accreditation was awarded to just 21 hospitals last year.
During the inspection, the centre demonstrated the choice and control given to patients, the welcoming and accessible atmosphere, the respect for privacy and dignity and support to patients' comfort and wellbeing.
Oncology Nurse Specialist, Jackie Creedon-Wilkes was recognised for her efforts in preparing for the inspection with a special silver pin as part of Spire Bushey Hospital's 'Inspiring People's Award'.
Lisa Trybus, Hospital Director at Spire Bushey Hospital proudly unveiled the Macmillan plaque at a celebratory event this month. She commented: "It is a huge honour to receive the Macmillan Quality Environment Mark. It's an acknowledgement that our staff here are succeeding in our ultimate goal – to ensure that patients receive the highest possible level of care.
"I would like to thank the team for their constant hard work and a special thanks to Jackie for her commitment in preparing for the Macmillan inspection."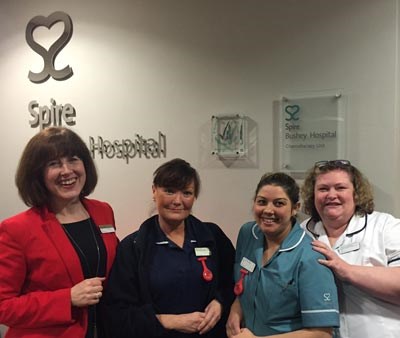 (Left to right: Spire Bushey Hospital Director Lisa Trybus, Chemotherapy Sister Sam Long,Chemotheraphy Nurse Christina Vas and Oncology Nurse Jackie Creedon-Wilkes)