What did our patients say?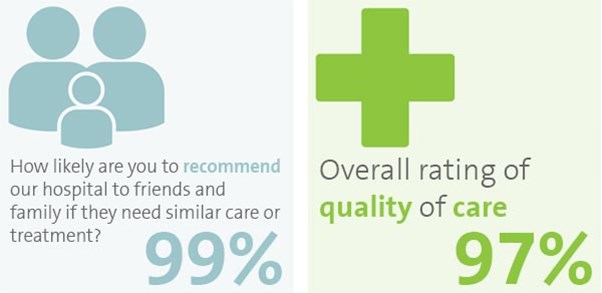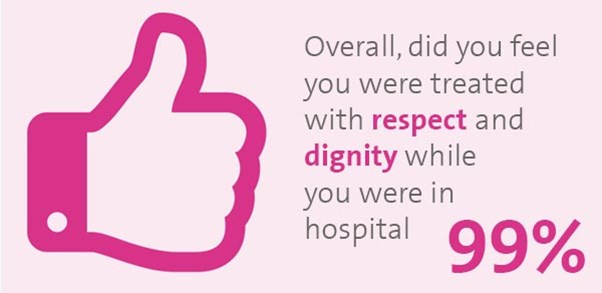 At Spire Bristol Hospital our staff are dedicated to putting the patient at the centre of everything we do, from diagnosis through to surgery and recovery. We monitor the success of this through our monthly Patient Satisfaction Survey.  
This feedback is essential for us to monitor and improve our services at every stage of the patient journey. Take a look at the latest survey results below. 
The care and attention of our nurses was rated highly, with 99% of those completing the survey expressing our nurses were 'Excellent' or 'Very Good'.
Our consultants were given a score of 100%. Our Patients rated them either 'Excellent' (97%) or 'Very Good' (3%).
The food at our hospital was given strong reviews and scored 5% above the Spire Healthcare average.
Our Physiotherapy department was rated above the Spire Healthcare average and 98% of patients rated them 'Excellent' or 'Very Good'.
Comments

Our survey invites patients to add comments about their experience. We have hand-picked just a few below:
"Consultant Mr Duncan was exceptional. Cardiology team were excellent, My recovery nurse Sue was outstanding. Excellent care on the Ward and an excellent discharge discussion form the nurse."

"From entering the building the attention and service were first class - reassuring, competent and very professional. Well done all." 

"I thought the care was fantastic and all the staff from the cleaners upwards were the best. Thank you."

"Logistically so well organised. Very responsive, kind and helpful."
As always we would like to express our gratitude to all our staff for making our patients journey a pleasant experience - thank you.