Local celebrity visits hospital to thank the surgeon who saved his career.
The former British Lion was treated at the city's Spire Bristol Hospital in May this year, following a devastating injury during his team's Championship play-off final against Worcester Warriors.
Gavin, 33, sustained a fracture dislocation to his left ankle including severe ligament damage, which threatened to destroy his 15-year career. The star had previously suffered a serious injury to the same leg during the Ospreys Heineken Cup defeat to Saracens in April 2008.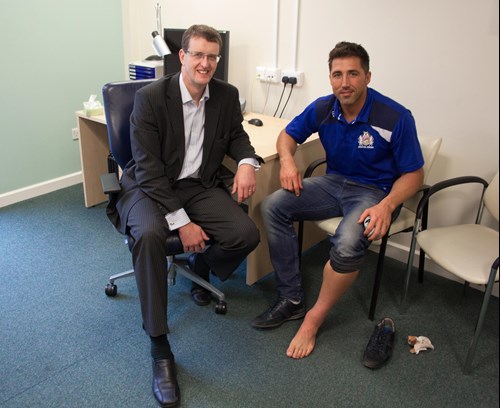 Orthopaedic Surgeon Mr Stephen Hepple, the consultant who treated Gavin at the South West's largest private hospital explains:
"Following the injury in 2008, Gavin underwent treatment with tightropes, very strong internal sutures which are used to stabilise the ankle. In addition to the fracture these sutures snapped during this latest accident and put a very real question mark over his future career."
The father of two's leg was placed in Plaster of Paris for two weeks and he wore an ankle boot for a month, before beginning intensive rehabilitation.
"Gavin's rate of recovery was quite extraordinary," continues Mr Hepple.
"He was playing again competitively in a little over three months – an exceptionally fast recovery in comparison with the general population."
"I was devastated when I was injured again and really thought it was game over for my rugby career," says Gavin.
"The team at Spire literally saved my career and I really wanted to come back to thank everyone personally for getting me back on my feet."
"Without the incredible care I received here, I don't think I would be back on the pitch. "I'm so grateful I am able to continue doing what I love and I hope that I can carry on representing Bristol Rugby for years to come."
The Spire Bristol Hospital are proud sponsors of Gloucestershire Cricket and Bristol Rugby and as such is accustomed to treating the sports injuries of professionals as well as amateur enthusiasts. The hospital boasts over 200 world class consultants with a team of more than 30 orthopaedic consultants covering all areas of sub-speciality within orthopaedics.
Over 2,500 orthopaedic procedures are carried out every year, each utilising the state of the art facilities at the hospital, including a £1.2 million MRI scanner and four operating theatres with laminar flow to help minimise the risk of infection.