Don't be embarrassed about women's health – it's time to talk.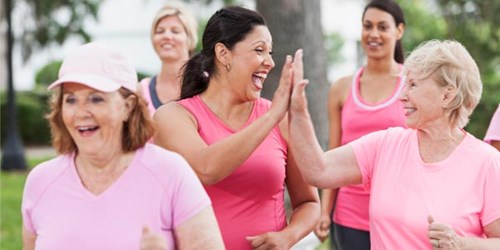 Spire Bristol Hospital will be hosting women's health information evenings this coming October in a bid to dispel myths and enlighten women about treatment options available to them right here in Bristol. 
It's the 21st Century and many people in the UK would consider themselves unshockable - so why are we all so reluctant to discuss health issues such as gynaecological cancers, breast cancer and 'embarrassing' issues such as incontinence?
Here at Spire Bristol Hospital we recognise that talking about women's health is the first step to changing and saving lives.   
Consultant Gynaecologist Miss Sanchita Sen and Consultant Breast Surgeon Mr Simon Cawthorn of Spire Bristol Hospital are calling on women to overcome any embarrassment about their breasts, gynaecological organs or other body parts and discuss any issues relating to them which otherwise are often seen as a taboo!
National health campaigns including Gynaecological Cancer Awareness Month in September, and Breast Cancer Awareness Month throughout October help to raise general awareness. However Mr Cawthorn spoke to us and explained why talking openly about women's health is an important first step to treatment success. 
"Women's cancers can affect all ages and can often present with hidden symptoms. It is crucial to talk frankly about any symptoms to help with early detection. 
"Statistics show that with increased awareness and through high-profile media campaigns we can influence the behaviour of women across the UK. We need to ensure that every woman knows how to carry out effective self-check procedures and, just as importantly, what to do if you think something is wrong."
Figures from Breast Cancer Care UK show that almost 9 in 10 (87%) women diagnosed with breast cancer in England and Wales survive for five years or more while an estimated 78% survive for 10 years or more.
"We are winning the battle but the fight must go on. Let's talk!" concludes Mr Cawthorn.
And it is not just cancer. There are many women's health topics, which we deem too 'embarrassing' to discuss. Gynecological Specialist Miss Sen echo's Mr Cawthorn's comments and stresses the importance of getting to know our bodies.
"The lack of basic knowledge about the female body and understanding of female physiological functions, is extremely worrying – how can we expect women to know what to look out for in terms of unexpected changes in their vagina or vulva and to be aware of important signs and symptoms, if they're not aware of how they should normally look and function.
"I am not expecting people to have a vast medical knowledge but it really is worth taking time to find out what is healthy and what should be checked out by a GP. Hopefully by talking about it we can bring these issues into the open and help women – and their partners – to discuss the subject openly."
This October Spire Bristol Hospital is promoting the awareness of Women's Health. Subsequently we have announced a number of free patient information evenings.
Mr Simon Cawthorn and Specialist Breast Care Nurse, Jackie Skinner will be hosting a Breast Awareness evening on Wednesday 25 October from 7.00pm at Spire Oncology Centre, Aztec West. This will allow women to discuss breast care and gain a first-hand understanding on what signs and symptoms to look out for. 
In addition to this Miss Sanchita Sen and Spire Bristol Hospital's specialist women's health Physiotherapist will be hosting an evening on Tuesday 31 October from 7.00pm at Spire Bristol Hospital to talk about issues surrounding a lady's pelvic floor, which includes incontinence issues, prolapse and childbirth issues such as episiotomy breakdown.
If you're interested in attending either of these events then please do not hesitate to contact our patient treatment advisers on 0117 980 4080 or using the form below. 
Women's Health Patient Information Evening
Book today by completing the form. Please specify the event you would like to be booked onto.
Thank you for your booking. A member of our team will be in touch to confirm your place. If you require anymore information then please do not hesitate to get in touch via our Patient Treatment Adviser direct line 0117 980 4080.