Grand-mum Catherine steps into the space age with 3D knee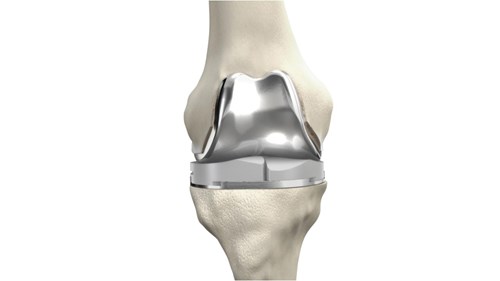 Grand-mum Catherine steps into the space age with 3D knee
A Kent grandmother who has suffered with knee problems since her teens has stepped into the space age after receiving pioneering treatment in the field of joint replacements.
Sixty-eight-year-old Catherine Gundry is thought to be one of the first women in the region to be fitted with a designer knee that was created using a 3D printer!
Catherine, who lives in Sittingbourne, was fitted with the new custom made knee by orthopaedic consultant Mr Rohit Jain at the Spire Alexandra Hospital in Walderslade.
A CT scan produced a 3D image of Catherine's knee which was emailed to America where manufacturer ConforMIS produced an exact replica by using a 3D printer.
Mr Jain explained: "I know it sounds a bit like something from 'Star Trek' but this is the very latest in knee replacements. In traditional surgery I'd select an off-the-shelf implant then make adjustments to make it fit.
"With this replacement we have an exact replica of the knee so the implant is designed to fit the natural shape and curves of the patient. There is no need for correction or adjustment, what you have is the finished product ready to be fitted into place."

Catherine, who has two daughters and five grandchildren, said she had been 'curious to say the least' when she was told her new knee was going to be made on a 3D printer but says the result has been amazing.
"The operation went very well - it was done in the morning by the afternoon the physiotherapist had me out of bed and walking with the help of a frame.
"The recovery is going really well and, with some great physio, my movement improves on a daily basis."
A keen badminton player, Catherine first started having knee troubles in her teens. 
"At times it stopped me playing badminton, which I was heavily involved into my late 40's, but because it went from being very painful to virtually unnoticeable I kept putting off having something done about it.
"However, about 18 months ago,  it got a lot worse and began to really affecting my walking so I decided now was the time to take action and I am delighted with the way it has all gone," said Catherine.
Mr Jain added: "The ConforMIS knee is a patient-specific implant which is customised to fit each patient's unique anatomy. Recent studies are finding high satisfaction amongst patients and we will certainly see it coming into more common usage in the near future."