She had previously considered, Botox, however, this would not have fixed the issue. After research, Michelle discovered upper and lower eyelid reduction; and decided this would be the best option. 
The next step for Michelle was to decide where she would undergo the procedure.
'I had knee surgery at a Spire hospital two years ago so Spire Little Aston was my natural choice. Spire Little Aston hospital was not far from home and I wanted somewhere local. I reviewed the hospital online and reviewed what surgeons were available for the type of surgery I wanted. Picking a surgeon was the hardest part of the process. I read their bio's and provisionally decided on two. I made an appointment with the cosmetic nurse to discuss the surgery and procedure and to also find out some more about the two surgeons I had picked. As this was a private surgery, I had booked a week off work so I needed a surgeon that could also accommodate the window I had for the surgery. After the discussion, I decided Anne Dancey was the surgeon for me. I arranged for a consultation with Anne to discuss the surgery'.
Once Michelle had chosen her surgeon, the procedure was next. Michelle found the process very straight forward. Miss Anne Dancey visited Michelle before the surgery to recap the procedure and to also mark around the eyes, her incision points and the excess skin she was looking to remove. A short time later, Michelle was wheeled into surgery.
'When I woke, I was back in the room with a cold eye mask on my face. The cosmetic nurse visited me in the afternoon to review my eyes and told me the surgery went well and it looks great'.
'I was really pleased that I had chosen Anne to do my surgery- she made me feel at ease. She explained the procedure to me in a way that was easy to understand. She's very down to earth and made me feel like she really cared about how unhappy I was and that she really wanted to make a difference for me'.
As part of Michelle's operation, she stayed overnight here at the hospital and was looked after by our team and nothing was too much trouble.   
'When I compare myself now to photographs of last year, it's amazing'.
Before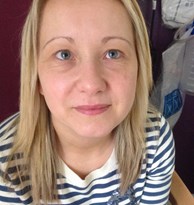 After